Dining in Lancaster County
From elegant dining experiences to traditional Pennsylvania Dutch cuisine, Dining in Lancaster County is the essential guide to Lancaster County's best eateries.
Experience the flavors of Lancaster County for yourself.
Advertising Information
To speak to an account representative or to obtain a media kit for Dining in Lancaster County, call 717-492-2525.
SALES MANAGER
Greg March
Gmarch@engleonline.com
ACCOUNT REPRESENTATIVE
Karen Stoltzfus
Karen@lancastercountymag.com
Dining in Lancaster County reserves the right to edit material based on its standards for publication. Advertising is subject to the publisher's approval. Although extreme care is taken to ensure the accuracy of all content, Dining in Lancaster County and/or its advertisers are not responsible for errors or misprints. ©2023. All rights reserved. No part of this magazine may be reproduced by any process except with written authorization from the publisher. Published annually by Engle Printing & Publishing Co., Inc.
Dining in Lancaster County
P.O. Box 500 | Mount Joy, PA 17552
info@dininginpa.com | 1.800.800.1833
Lancaster County Magazine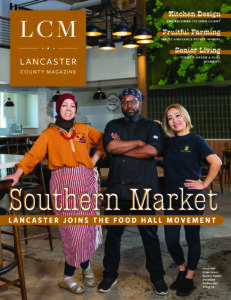 Our sister publication, Lancaster County Magazine is the area's ORIGINAL monthly publication, written by and for those who live, work and have roots in Lancaster County – as well as those who simply love the area. The flagship publication includes regular columns about food, homes, gardens, personalities, fashion, heritage and events.
Since 1987, Lancaster County magazine has been committed to celebrating Lancaster County's people, scenery, heritage, style and point of view.
Subscribe