Originally featured in Lancaster County Magazine.
As if restaurateurs don't have enough on their plates, December brings the challenge of transforming their establishments into must-see holiday destinations. In Strasburg, the holiday décor at the Fireside Tavern has been captivating visitors for the past 10 years.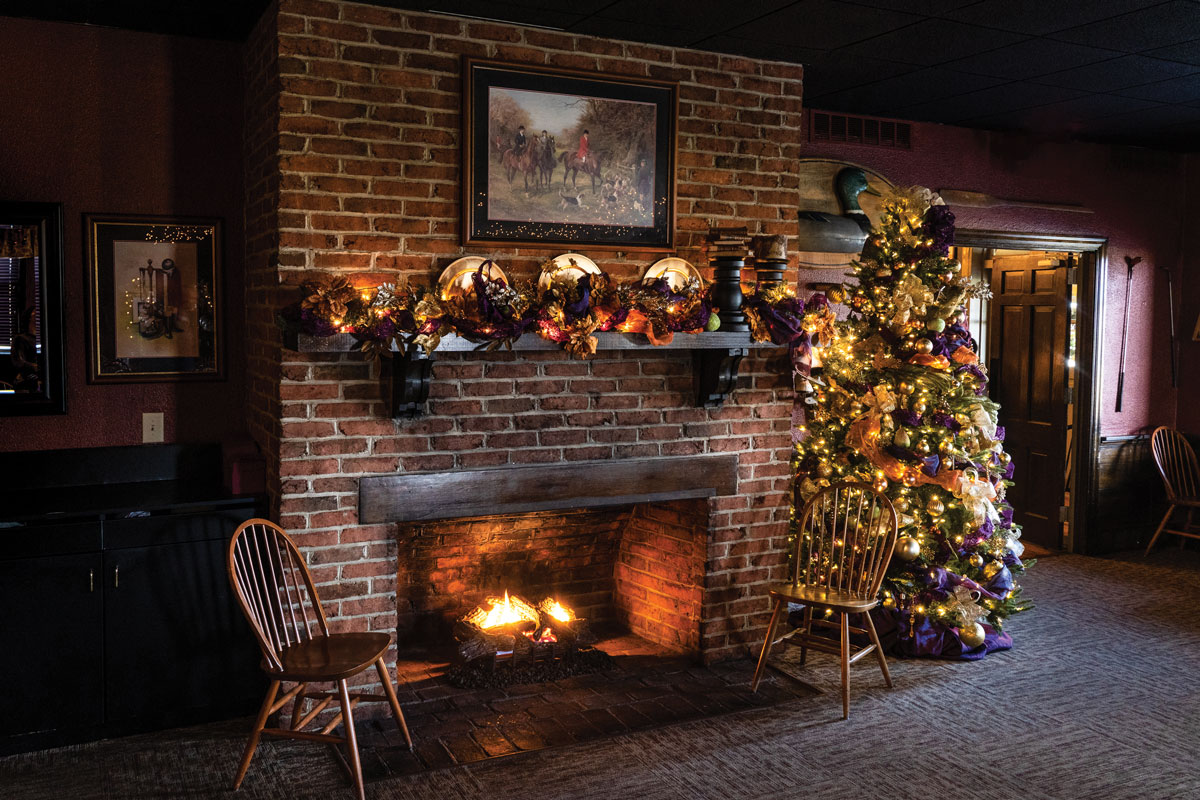 When David Haines and Steve and Stephanie Kirkessner took over the restaurant and ballroom at the former Historic Strasburg Inn in 2008, they knew the holiday season would be an important element of the business. After all, in Lancaster County, Christmas and Strasburg go hand-in-hand. For example, Sight & Sound Theatre is staging its popular Miracle of Christmas show (through December 28). The Strasburg Rail Road will be hosting its various holiday-themed, family-friendly train events (through December 23). Christmas events are being held at the Railroad Museum of Pennsylvania on December 7 and 14. The holiday-themed model-train layout at the Choo Choo Barn has been a tradition since the early '60s, while the National Toy Train Museum is a magnet for toy-train enthusiasts at this time of the year.
On December 7, the Strasburg Heritage Society will host its annual Holiday Home Tour. The Lancaster County Art Association will be hosting the exhibit, Holiday Greens & Merry Miniatures, as well as a sale of select works from the Permanent Collection (through December 22). The American Music Theatre, which is nearby, is presenting its holiday show, Joy to the World (through December 30).
Strasburg's small shops and the nearby outlet centers attract droves of holiday shoppers. There's also a new attraction: Strasburg Scooters, which is hosting holiday-themed tours.
"People come to the Fireside before and after the shows and events that bring them to Strasburg," Stephanie explains. "For a lot of them, it's become a tradition. We are blessed to be located in the middle of all the attractions that bring visitors to Strasburg and feel it's important to provide them with an 'experience' at the Fireside."
In addition to welcoming visitors from near and far, the Fireside takes pride in being regarded as a "neighborhood place." It's become a favorite with the 55+ community that is located virtually next door. A walkway that leads from Main Street makes the Fireside a very walkable destination for the town's residents. It's become a favorite venue for reunions of alumni from Lampeter-Strasburg, Pequea Valley and Solanco high schools.
If the owners' names ring a bell, you probably recognize them as the former owners of D&S Brasserie. "We owned it for 18 years," Stephanie notes. The decision to sell was prompted by the Kirkessners wanting to devote more time to family and Haines exploring new ventures. "We went our separate ways," she says. "We had no real plans to get back into it, but five years later, when the Historic Strasburg became available, we were ready to regroup."
Before they could even think about Christmas, they had to refurbish the restaurant and ballroom. "We worked with interior designer Ralph Myers. A lot of cosmetic work went into it," she says of the new flooring, color schemes, window coverings, furnishings and art that define the traditional ambiance of the property and provide each space with its own unique look and feel.
They also discovered a stash of holiday decorations in one of the storage areas. "We pulled it all out and spread the decorations across tables set up in the ballroom," Stephanie recalls. Then, they had a pro come in and survey their finds. The pro was Kathy Frey, the owner of the home and fashion boutique, Festoon, in downtown Lancaster, which always looks gorgeous at holiday time. "She's a dear friend and an inspiration," Stephanie explains.
Kathy came in and designated which items should stay and which should go.
From there, Stephanie took over. As is often the case, finding holiday décor became a year-round pursuit. She began working with local wholesale companies such as AT Imports, LTD and Primitives by Kathy to add to the collection. She constantly scours Pinterest for ideas. If something catches Stephanie's eye during her travels, she buys it.
With two dining rooms, a bar and a ballroom to decorate, the challenge is to keep Fireside looking fresh from year to year. "The goal is to wow our guests,"
she notes.
Stephanie attributes the success of providing that wow factor to her band of eight to 10 elves, who help to decorate the property in one swoop. Once the restaurant closes and the last guests leave a function in the ballroom on the Saturday before Thanksgiving, Stephanie and her team of employees unpack the holiday decorations and work through the night to transform the Fireside into a holiday wonderland.
"Kathy Frey is also here from start to finish that night, working her magic, providing what I call 'the Festoon touch' – that extra fluff – and tweaking the decorating our staff has done," Stephanie explains. "She leads and teaches us as we go. She truly is the mastermind behind all of it. I am so humbled and honored to have her share in our decorating efforts."
Eight trees decorate the Fireside, two of which stand in the ballroom that was recently rebranded as The Willows at Historic Strasburg. Fireplaces are decked, lights are strung, wreaths are hung and decorative elements are placed atop tables and other furnishings.
"We receive so many compliments," Stephanie says of the appreciative words that make the team's efforts worth losing a night of sleep. The reservations line then starts ringing with requests to sit by a tree, a fireplace or in the festively decorated bar.
As with most restaurants, the Fireside takes it up a notch over the holidays. "We're a restaurant with a ballroom, so in addition to our regular lunch and dinner service, we're hosting Christmas parties, weddings and other holiday events," Stephanie explains, describing the Fireside in December as "well-orchestrated chaos."
Actually, that starts in November, when the restaurant gears up to host its annual Thanksgiving Day Buffet, which is always a sell-out. When the menu for the buffet is posted in August, the reservations begin to roll in. "A lot of people will make a reservation for the following year on their way out," she says of the Turkey Day extravaganza.
Stephanie says Fireside's secret to successfully handling the holiday rush is the fact that everyone has a role to play and executes it perfectly. "Dave's forte is overseeing the ballroom's kitchen," she explains. He works closely with Amanda Kramer, the ballroom's event coordinator. The restaurant's kitchen staff is led by chef David Roark Eshleman, whose resumé includes D&S Brasserie. She describes Lisa Host as a bartender "with a following."
While the Fireside is a holiday destination, its owners recognize that the holidays are also about family. In order to give their 60 employees a well-deserved break, the restaurant closes after lunch on Christmas Eve and reopens December 26. It is open for lunch and dinner on New Year's Eve but is closed on New Year's Day. Then, it's time to take all the decorations down and prepare for the year to come.
Fireside Tavern and The Willows at Historic Strasburg, 1500 Historic Dr., Strasburg. Reservations are suggested for holiday dining. Call 717-687-7979 or visit dsfireside.com.  
December 7 | Strasburg Holiday Home Tour
Sponsored by the Strasburg Heritage Society, this annual tour – celebrating its 10th year – will feature decorated homes in charming, historic Strasburg and surrounding areas. Purchase advance tickets for $20 (through December 5) at Main Street Antiques, Speckled Hen or Strasburg Heisler Library. Day-of-tour tickets ($25) can be purchased at First Presbyterian Church, where you will also find a public holiday market (9:30 a.m.-3 p.m.), food and beverages, and a silent auction, the winner of which will receive a colonial hearth-cooked dinner for six in a historic home. New this year, you can pre-order tickets online through the Society's website (by December 5) and pick them up the day of the event. 10 a.m.-4 p.m. Information: 717-687-3534, strasburgheritagesociety.org, strasburgholidaytour@gmail.com or Facebook.