We All Scream for Ice Cream!
In Lancaster County, ice cream is regarded as a vital component of the Food Pyramid's Dairy Group. From old-fashioned soda fountains to dairy farms and all-American drive-ins, there is no shortage of locally owned ice cream shops.
Be sure to check with each location for current hours.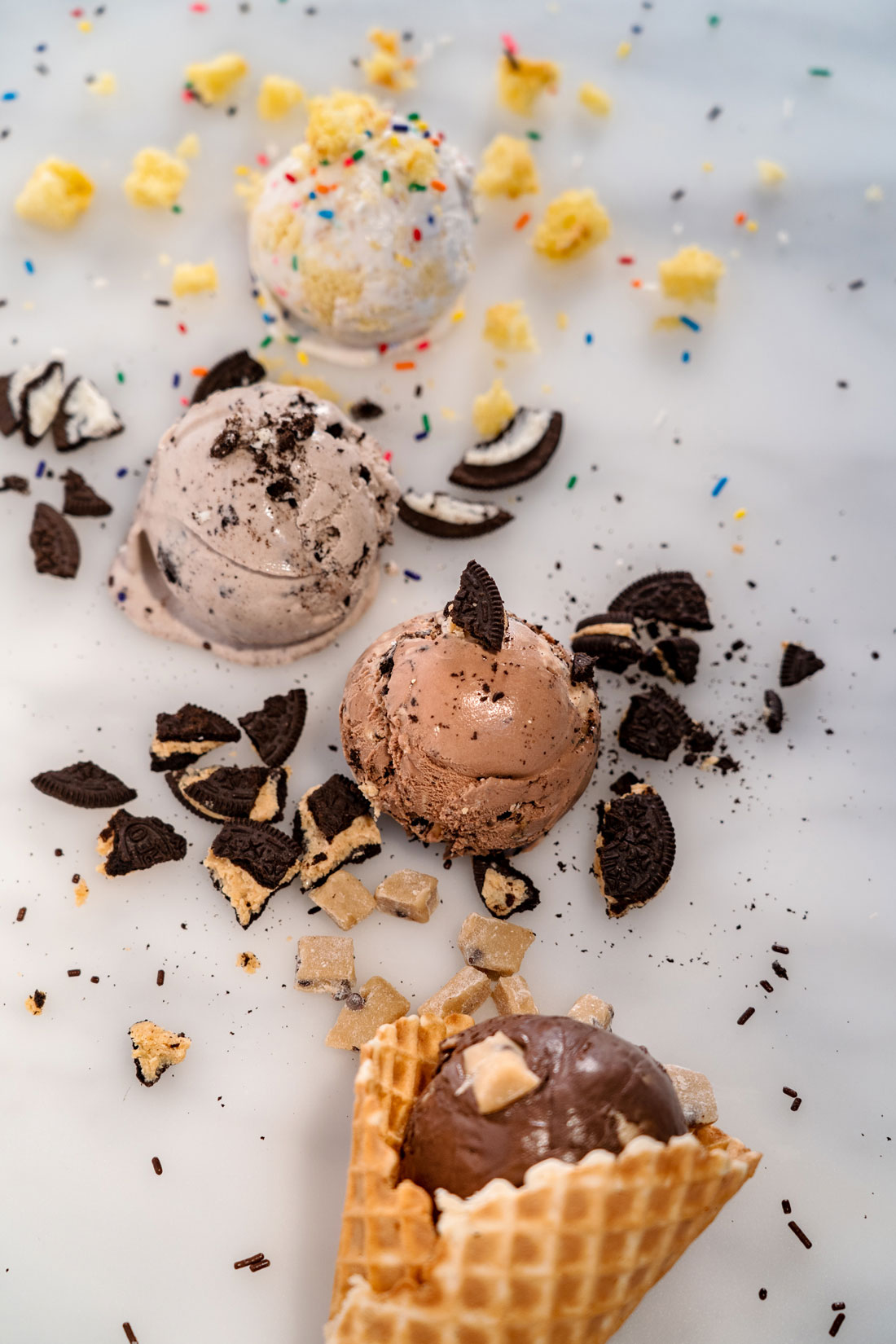 *A 2022 Lancaster County Magazine Best of Lancaster Survey Winner in the Ice Cream Category
32° Below
 

Ice Cream Shop

Bricker Village, 2 E. 28th Division Highway, Lititz. Brickervillage.com
Bird-In-Hand
 

Bakery & Café

2715 Old Philadelphia Pike, Bird-in-Hand. Bird-in-hand.com
Boehringer's
 

Drive-In

 

3160 N. Reading Rd., Adamstown. Facebook.com/boehringersdrivein
Coffee and Cream
101 N. Front St., Columbia. Coffee-and-cream-coffee-shop.business.site
Down on the Farm
 

Creamery

226 Gap Rd., Strasburg
509 May Post Office Rd., Strasburg
Facebook
Figments in
 

Sprinkles

50 S. Market St., Elizabethtown. Facebook.com/figmentsinsprinkles
Fox Meadows
 

Creamery * 

 

2475 W. Main St., Ephrata.
193 E. Main St., Leola
Foxmeadowscreamery.com 
Freeze & Frizz
2250 New Holland Pike, Lancaster. Freezeandfrizz.com
Gigi's Ice Cream Bar
2 S. Second St., Bainbridge. Facebook.com/bainbridgepa
Good Life Ice Cream
 

& Treats

2088 Fruitville Pike, Lancaster. Goodlifelancaster.com 
Greco's Italian
 

Ices & Homemade

 

Ice Cream

9 E. Kleine Lane, Lititz. Facebook.com/grecos717
Hayloft Ice Cream
 

Treats & Soft

 

Pretzels

95 S. Groffdale Rd., Leola. Haylofticecream.com
Hinkle's Restaurant
 

Soda Fountain

 

261 Locust St., Columbia. Hinklesrestaurant.com
Isabella's Ice
 

Cream Parlor

110 E. Main St., Lititz. Isabellasic.com
Lapp Valley Farm
244 Mentzer Rd., New Holland
Kitchen Kettle Village, 3529 Old Philadelphia Pike, Intercourse
Green Dragon Market, 955 N. State St., Ephrata
Lapp Valley
 

Creamery & Café

4040 Old Philadelphia Pike, Gordonville 
Lickity Split
209 E. Main St., New Holland. Lickitysplit.info
Little Dippers
 

Ice Cream

432 W. Main St., Mount Joy. Facebook
Manheim Twin Kiss
309 S. Main St., Manheim. Manheimtwinkiss.com
Maplehofe Dairy
799 Robert Fulton Hwy., Quarryville. Maplehofedairy.com 
Miesse Candies & Ice
 

Cream Parlor

 

118 N. Water St. #102, Lancaster. Miessecandies.com 
Mulberry Thrill
100 W. Market St., Marietta. Facebook.com/mulberrythrill
Oregon Dairy's
 

Milkhouse Ice

 

Cream Shoppe

2900 Oregon Pike, Lititz. Oregondairy.com/ice-cream-shoppe
Pine View Dairy
*
2225 New Danville Pike, Lancaster. Pineviewdairy.com
Rolled Cold
 

Creamery

24 E. Orange St., Lancaster. Rolledcoldcreamery.com
Scoops Ice Cream
 

& Grille

312 Primrose Lane, Mountville. Scoopsgrille.com
Son's *
319 W. Main St., Quarryville
1991 Miller Rd., East Petersburg
Sonsice.com 
Splits & Giggles
500 W. Lemon St., Lancaster. Splitsandgiggles.com 
Strasburg Creamery,
 

Café and

 

Country Store

1 W. Main St., Strasburg. Strasburg.com/strasburg-creamery
The Lancaster
 

Sweet Shoppe

141 N. Duke St., Lancaster. Lancastersweetshoppe.com
The Pretzel Hut
2224 Furnace Hills Pike, Newmanstown. Pretzelhut.com
The Salted Spoon
2301 Harrisburg Pike, Suite 100, Lancaster. Thesaltedspoonlancaster.com
The Shack
 

Restaurant &

 

Mini Golf

662 S. Oak St., Manheim. Theshackmanheim.com
The Udder Choice
1812 W. Main St., Ephrata. Udder-choice.com
Twisted Sisters Ice
 

Cream & Handmade

 

Chocolates

47 N. Main St., Manheim. Facebook
Udder Bliss
 

Creamery

189 Ridgeview Rd. South, Elizabethtown. Facebook.com/udderblisscreamery