Freddy States, who owns Marietta's McCleary's Public House and the Railroad House Inn, is of the opinion that Lancaster County's trails and the foodie movement beautifully complement each other. "People have become more health conscious," he notes. "They can come here and walk or bike the trail and then enjoy one of our restaurants."
There are more than a dozen trails that dot the county, with several of those being rail trails. Rail trails were created along the abandoned railroad lines that once passed through the area. These trails are perfect for hiking, biking, walking, jogging, skating and more. The various park systems and organizations, such as the Lancaster County Conservancy, operate greenways and preserves that are conducive to outdoor activities.
Pennsylvania is actually one of the premier states that helped to launch the construction of rail trails. The Keystone State has over 100 rail trails consisting of more than 900 miles. Below are some of the trails you'll find located within the county:

 1 + 5
COLUMBIA/MANOR TOWNSHIP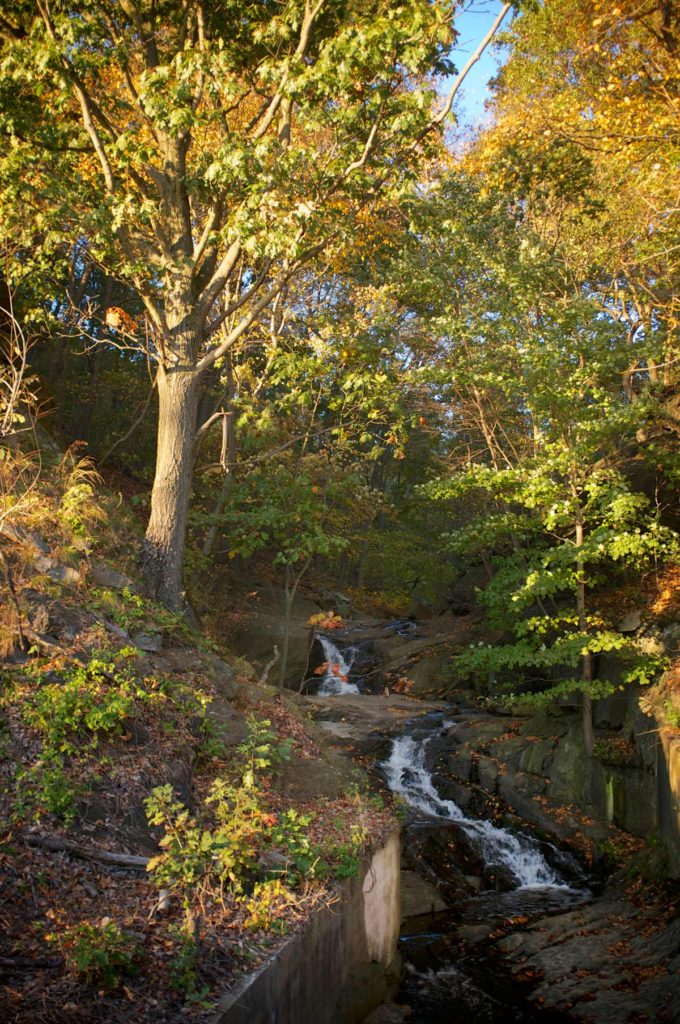 5
QUARRYVILLE/THE SOUTHERN END
The Daily Grind,
dailygrindquarryville.com
Maplehofe Dairy, maplehofedairy.com
Dottie's Snack Bar, Facebook
Quarryville Family Restaurant, Facebook
Sam's New York Style Pizza & Italian Restaurant, samspizzaquarryville.com
Village Pizza, villagepizzaquarryville.com
CR Lapp's Family Restaurant, crlappsfamilyrestaurant.com
Son's, sonsice.com
Pour Girls, pourgirlsrestaurant.com
Conestoga Wagon Restaurant, theconestogawagon.com
Rocky B's Ice Cream & Hot Food, Facebook
Frogtown Café, Facebook
7 + 8
LANCASTER
Luca, lucalancaster.com
Penny's Ice Cream, pennysicecreamtruck.com
Splits & Giggles, splitsandgiggles.com
Fresh Farms Café, freshfarmslancaster.com
The Fridge, beerfridgelancaster.com
Red Rose Tavern, redrosetavern.com
Oka Asian Fusion, okaasianfusion.com
Mr. Bill's Seafood, mrbillsseafood.com
Callaloo Trinidadian Kitchen, callalootrinidadiankitchen.com
Conestoga Restaurant, conestogarestaurant.com
The Brasserie, lancasterbrasserie.com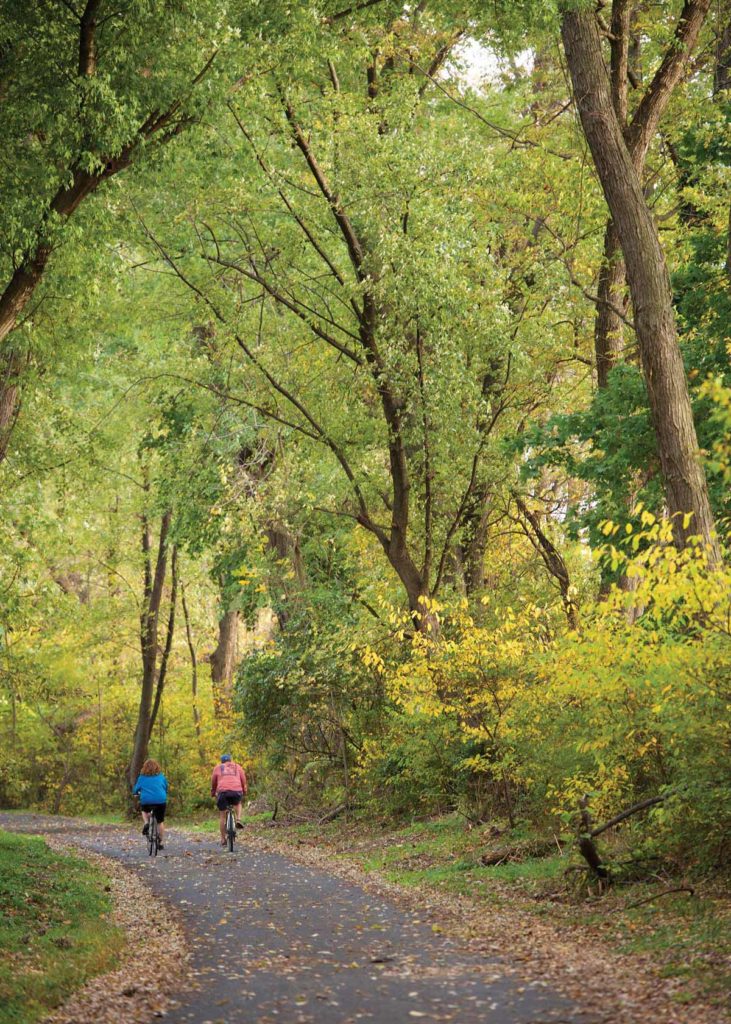 4 + 10
LITITZ/MANHEIM TOWNSHIP
Bull's Head Public House,
bullsheadpublichouse.com
Rooster Street Butcher, roosterst.com
The Sutter, atthesutter.com
Tomato Pie Café, tomatopiecafe.net
JoBoy's Brew Pub, joboysbrewpub.com
Appalachian Brewing Company,
abcbrew.com/brew-pubs/lititz
Gravie Kitchen + Commons, itsgravie.com
Café Chocolate, chocolatelititz.com
Brickerville House Family Restaurant, brickervillehouserestaurant.com
Zig's Bakery, zigsbakery.com
Lititz Family Cupboard,
lititzfamilycupboard.com/
restaurant-buffet
Greco's Italian Ices & Homemade Ice Cream, Facebook
Isabella's Ice Cream Parlor, isabellasic.com
Stoner Grille, stonercommons.com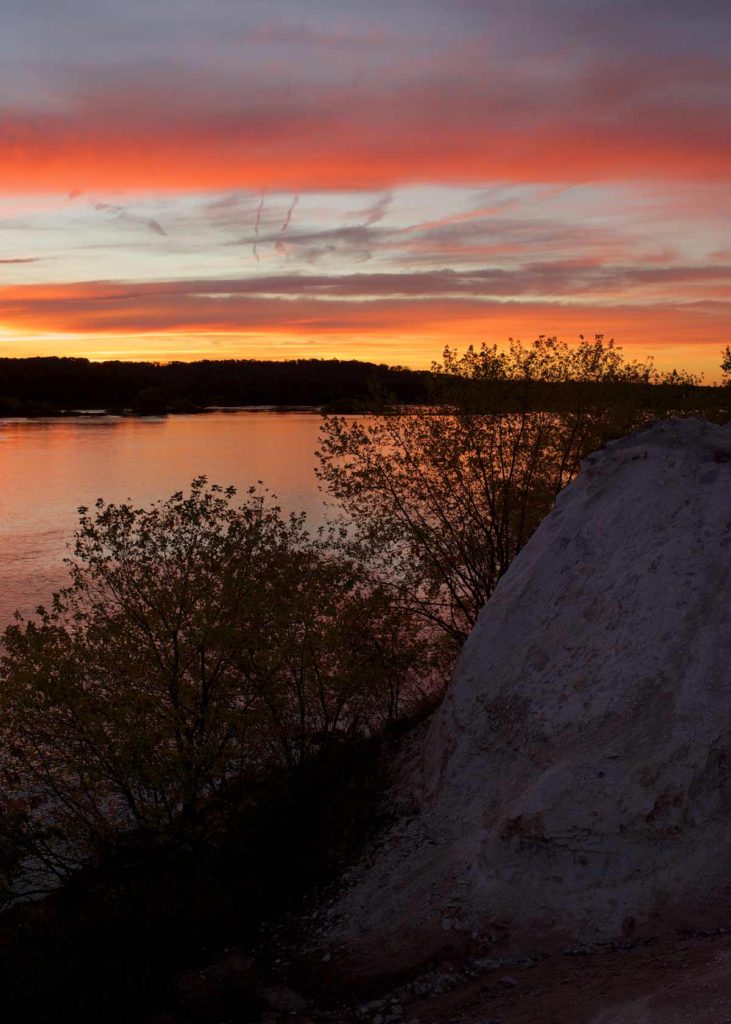 1. Chickies Rock Overlook Trail:
(0.9-mile loop trail) Enjoy amazing views of the Susquehanna River and the surrounding communities of Columbia, Wrightsville and Marietta. Located at both River Front Park and on Furnace Road, Chiques Rock Outfitters offers rock climbing and kayaking packages as well as bicycle rentals. This trail mostly consists of dirt and gravel with some paved areas. Directions
2. Conestoga Greenway Trail:
(1.3 miles) The paved multi-use trail extends from Conestoga Drive near Bridgeport to Lancaster County Central Park at the South Duke Street bridge and runs along the Conestoga River. Visitors says it's great for hiking, biking, inline skating and walking your furry friends. Directions
3. Conewago Recreation Trail:
(5 miles) This trail is located between Route 230 and the Lebanon County line, northwest of Elizabethtown. Formerly known as the Cornwall-Lebanon rail line, it follows the Conewago Creek through scenic farmland and woodlands. The trail is great for hiking, jogging, biking, horseback riding and cross-country skiing.  Wheelchair accessible except for the intersection crossing at Mill Road. Directions
4. Dean L. Saylor Park:
(1.2 miles) The park's linear trail extends through Warwick Township and Lititz Borough. Consisting of asphalt and crushed stone, the trail is great for biking, inline skating, walking and cross-country skiing. It also features scenic landscape, playgrounds, farms and natural areas. Directions
5. Enola Low Grade Trail:
(Approximately 27.6 miles in Lancaster & Chester counties) This riverside gem travels along the Susquehanna River and runs through several townships and communities, including Manor, Conestoga, Martic, Eden and Quarryville. Trail enthusiasts can enjoy biking, walking and cross-country skiing on this crushed stone trail. Visitors will also take notice of the many scenic views, including a 1947 restored caboose. Directions
6. Lancaster Junction
Recreation Trail:
(2.3 miles) This trail was formerly a part of the Reading-Columbia rail line. It runs between the hamlet of Lancaster Junction and Route 283 and past scenic farmland and beautiful meadows. The crushed-stone trail is ideal for biking, horseback riding (at a slow and steady pace) and walking. Directions
7. Middle Creek Trail:
(1.25 miles) This gravel trail follows the path that was once the trolley line between Ephrata and Lebanon. It follows alongside Middle Creek and is covered in tall oak trees. Other trails crisscross this trail as well. Enjoy walking, hiking and viewing nature on this trail. Directions
8. Northwest Corridor Linear Park:
(0.7 miles) This trail can be found in Lancaster City between Harrisburg Pike and the 200 Block of West Lemon Street. The paved trail, also known as Mayor Janice P. Stork Corridor Park, has picnic tables and benches scattered throughout as well as a park area and small basketball court
alongside it. Directions
9. Northwest Lancaster
County River Trail:
(14.2 miles) This trail provides a scenic route for bike enthusiasts, inline skating, walking, cross-country skiing and fishing. The trail, which runs along the Susquehanna River from Columbia to Falmouth, is paved with a few areas made of crushed stone. Visitors will enjoy viewing historic ruins like the iron furnaces, timeworn canal locks and an old quarry. Directions
10. Warwick to Ephrata Rail-Trail:
(approximately 7.5 miles) Sitting on an abandoned stretch of the former Reading & Columbia rail line, this trail passes through the communities of Lititz, Warwick Township, Ephrata and Akron. Visitors will enjoy scenic farmland views, historical sites, locally owned shops, restaurants and produce stands. The trail consists of asphalt, crushed stone and gravel. Directions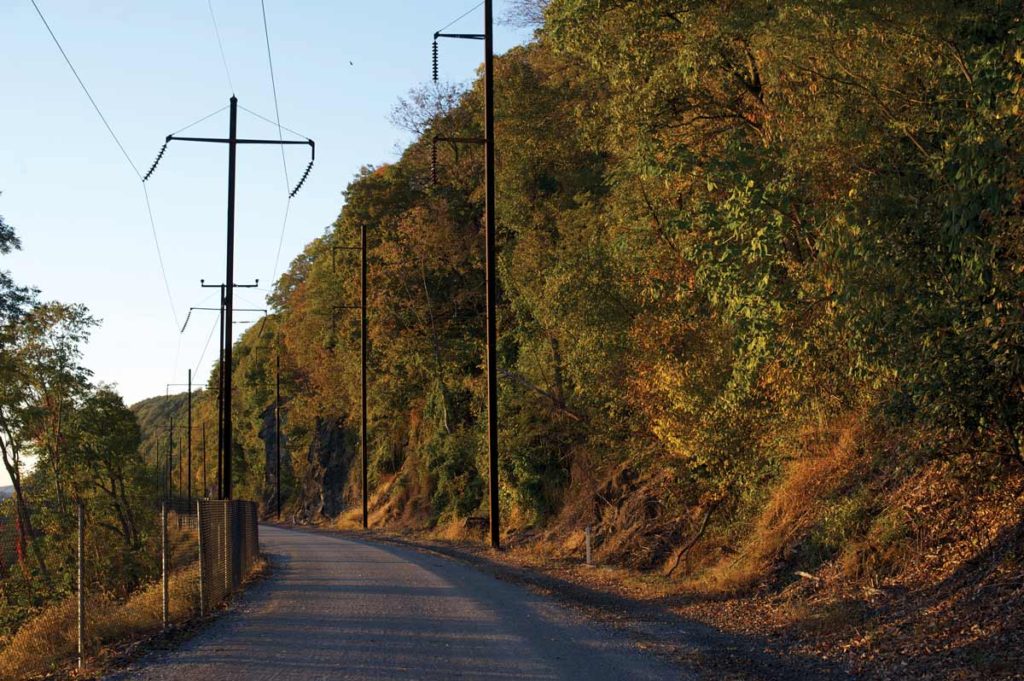 More Lancaster
County Trails:
Manheim Township Bikeway: (0.7 miles) This paved trail can be found between Kissel Hill Road and Hunsicker Road. Those traversing the trail will pass Hands-On House and Landis Valley Museum. The trail also connects with Heritage Trail. Guests can bike, skate or walk this peaceful trail.
Manheim Township Community Park Trail: (2 miles) This trail is the outer perimeter for its well-known park, which consists of picnic areas, pavilions, a playground, softball fields and more. It begins at the access road to the park, continues through a wooded area and ends at Weaver Road near the township's athletic center. Travelers can walk or bike this paved trail.
Heritage Trail: (1.1 miles) Located along the Landis Run Greenway, this trail extends from the corner of Valley Road and Delp Road west to Landis Run and then north to Landis Woods Park. The paved route also features a boardwalk over the wetland area toward the southern branch of the trail. The multi-use trail can be used for biking, walking and inline skating.

Belmont Trail: (0.5 miles) This paved trail was constructed as part of the Belmont subdivision/The Shoppes at Belmont. It begins on the western side of the historic Mayer-Hess farmstead and then crosses Fruitville Pike, passing the south end of The Shoppes at Belmont, and meanders through the development, which has views of the stone and brick lime kilns built in the 19th century. It ends at Crescent Avenue. 
Brighton-Reidenbaugh Park Trail: (0.5 miles) Bike, skate or walk this paved trail through the residential areas of northern Manheim Township. This trail passes the Brighton Village Shoppes off Erbs Quarry Road and Reidenbaugh Elementary School. Visitors will notice scenic farmland, well-manicured lawns and creatively landscaped yards.
Butterfly Acres Trail: (0.5 miles) You'll find this paved trail toward the south end of the Lititz borough. Visitors will enjoy views of a restored wetland and small stream, birds, small critters and, of course, butterflies. Enjoy biking, walking or skating this trail. The trail end points can be found at East Sixth Street in Lititz and English Ivy Drive in Warwick Township.
Elizabethtown Connector Trail: (0.3 miles) This very scenic trail includes views of the town's train station, a bridge that crosses Conoy Creek, the Elizabethtown Library and the town's park. Enjoy walks through lush greenery and view beautiful landscapes and history-related murals. You can bike, walk or skate on this trail; however, some areas are for walking only. 
Kissel Hill Commons Trail: (1 mile) This suburban trail runs throughout residential areas and begins at Wallingford Road, west of Kissel Hill Road. Staying on the trail, visitors will pass a small playground and lake. Don't be surprised to find flocks of ducks or geese resting by the water. This trail can be used for biking, skating and walking.
Mill Creek Trail: (0.9 miles) This trail is made of woodchips and provides scenic views of Mill Creek. It's great for biking, hiking and even birdwatching. In the Mill Creek development, you can access the trail off of White Tail Path. Visitors will take note of the trail's lush woodlands and the beautiful landscapes of properties that lie near the trail.
Muddy Run Lakeshore Trail: (3.8-mile loop trail) This trail is a moderately trafficked loop trail located near Pequea. It features a lake, offers a number of activity options and is accessible year-round. Visitors may also bring their furry friends along for a hike.
Pinnacle Scenic Overlook Nature Preserve: (over 2.76 miles of trails) This preserve provides individuals with a spectacular view from the scenic overlook and offers a moderate and difficult network of hiking trails. From Pinnacle Scenic Overlook, hikers can access Kellys Run and Tucquan Glen/Pyfer Nature preserves and beyond via the Conestoga Trail. 
Kellys Run Trail: (3.8-mile loop trail) This trail is found in the Kellys Run Nature Preserve and is considered a difficult-to-strenuous trail. Kellys Run Trail also serves as a section of the Conestoga Trail. Expect difficult and steep terrain while crossing multiple streams and traversing across bedrock and boulders. 
Climbers Run Nature Preserve: (2 miles of trails) The preserve contains three trails – Climbers Run Trail, Climbers Hollow Trail and Camp Trail. Each trail offers unique views. For Climbers Run, start the trail at the upper or lower parking area and travel the loop to see the various types of habitat. Crossing the stream may mean getting your feet wet.
Climbers Hollow Trail provides a scenic view of cascading waterfalls tumbling over rock through forested terrain.
On the Camp Trail, individuals leave from the center and follow the pathway to the pond and over the old footbridge to the meadow area by the lower cabins. From the meadow, there are two ways to access Climbers Run Trail.
Welsh Mountain Nature Preserve: This preserve offers easy-to-moderate hiking trails with multiple loops, including a half-mile (fully forested) Universally-Accessible Trail and the opportunity to extend hikes into the adjacent Money Rocks County Park. All open trails are clearly blazed and have been redesigned for long-term sustainability.
Shenks Ferry Wildflower Preserve: (1.7 miles) This trail is considered to be an easy walking trail. It begins at the kiosk near the culvert at Grubb Hollow and is renowned for wildflower walks in the springtime. A connector trail joins the Shenks Ferry Trail to the Enola Low Grade Rail Trail.
Steinman Run Nature Preserve: (2.5 miles total) The preserve's moderate trail consists of multiple loops, including the option of a figure-eight. This trail ascends gradually among large, mature trees.