Farm-to-Table: John J. Jeffries
Centuries ago, farm-to-table wasn't a movement. It was a way of life.
Packaged and processed foods started to become the norm during the 1950s, when it became easier to transport food from long distances thanks to advances in road construction and various modes of transportation. Processed foods, such the iconic TV dinner, which debuted in 1953, just made life simpler when it came to preparing meals.
However, during the 60s and 70s, that mindset shifted; we can thank the West Coast counterculture for creating a buzz about fresh, local and organic food.
The women's movement of the 60s also contributed to the rise of another phenomenon: fast food. Because so many women became members of the workforce during the 70s, fast food became the alternative to home-cooked meals. Unfortunately, because of the hectic schedules all family members maintain, that mindset persists. Chemically enhanced processed foods make up about 60% of the American diet, according to a 2016 report.
But, it's not all doom and gloom. The arrival of the 21st century was accompanied by a renewed interest in healthy living. Movements such as farm-to-table, Buy Fresh/Buy Local and slow-food have created a demand for organic and locally sustainable agriculture. The movements have also spurred an interest in cooking.
The term farm-to-table refers to the practice of consumers obtaining their products straight from local farmers, who provide them with fresh food instead of food from a farm that's thousands of miles away. The middleman is cut out, meaning less work and less time to provide goods to the consumers. The concept has expanded to include restaurants, CSAs and even school cafeterias. Buy Fresh/Buy Local is a nationwide program that encourages consumers to connect with local growers and food providers. Slow-food is a global grassroots campaign that promotes local food and cooking traditions.
Lancaster County has been a key player in these food-sourcing movements. Our restaurants, markets, makers and farms have attracted the attention of the nation.
John J. Jeffries
The farm-to-table movement has slowly shifted eastward across the country. Chefs and restaurateurs have made their way to Lancaster from the West Coast and have brought with them the philosophy of using sustainably sourced, fresh, organic food.
Sean Cavanaugh and Michael Carson are two such chefs who chose to open their renowned restaurant, John J. Jeffries, in Lancaster.
But, why Lancaster? "I was trying to figure out where the best spot would be to get closest to the farmers, and we'd just build the restaurant where the best farmers are and kind of reverse engineer it," Sean says.
He narrowed it down to three locations: Northern California, Hudson Valley in New York, and Lancaster County. "We made a connection in Lancaster. The Lancaster Arts Hotel was getting ready to go under construction. They were looking for someone to lease the restaurant to, so the timing was good."
The timing was great, actually, and the location was superb. Not only did the area serve up an ample amount of farms, but Lancaster is also the halfway point between upstate New York, where Sean's wife is from, and Pittsburgh, where Sean grew up. Once construction was underway for the restaurant, Sean called Michael – who was Chef de Cuisine at the esteemed Charleston Restaurant in Baltimore, Maryland, at the time – to jump on board as his partner.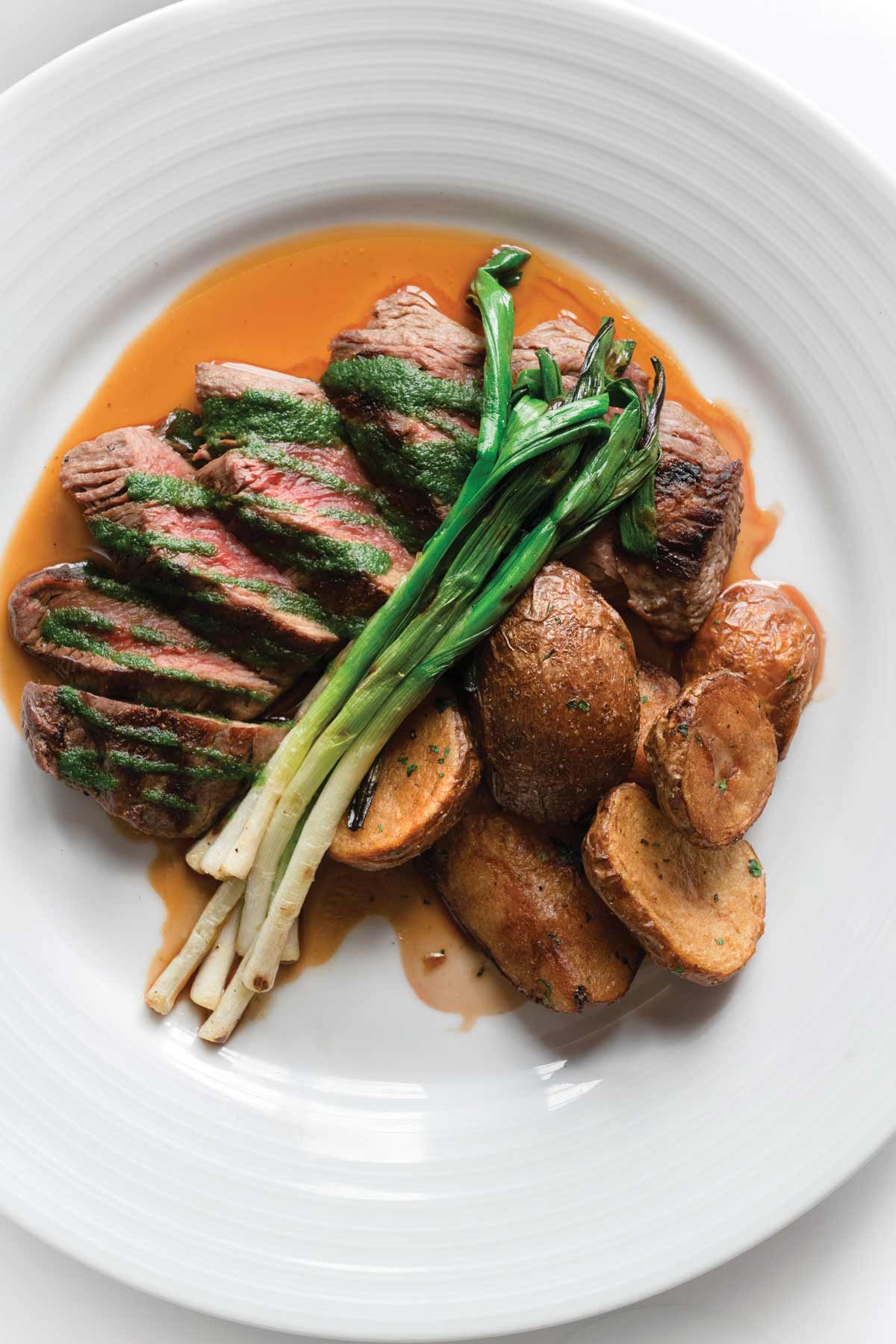 While Sean was a chef at the Vail Marriott Mountain Resort in Colorado, he began to research nutrition more and more after realizing the fact that he had surpassed his dad in age. (His father passed away when Sean was 16.) "It was tough, but I started taking a different perspective on things. As time progressed, I realized that I was now two months older than my dad was when he died; then I was a half-year older than my dad was when he died. So, at that point, I really started looking into nutrition, and that led me down a rabbit hole of food sourcing."
After attending a Weston A. Price conference in Denver and reading loads of information about food and nutrition, Sean kept falling down that "rabbit hole." He then reached out to a Colorado rancher whose farm was one of the locations filmed for a Kris Kristofferson movie. "That was the rancher I made contact with to start bringing beef from [the ranch to the restaurant]. The restaurant gave me some leeway because there was a lot of competition in Vail. We kind of redid the restaurant," he says. "There's obviously not a lot of farmers up in the Rocky Mountains, so we started bringing in black Tamworth hogs from a farm in Mississippi, using the whole animal and trying to make it work in a corporate setting. It was a good first step, but I was only going to be able to take it so far."
As the nutrition and sourcing factors became increasingly important to Sean, he decided to visit feedlots and slaughterhouses. "I really just pulled the curtain back, which most people don't ever get to see. I then decided that this is what I was going to do now, and it wasn't going to work in a corporate setting."
John J. Jeffries, having received its name from an 1890's tobacco inspector whose name was found stamped on one of the original floor beams, was one of the first – if not the first – restaurants in Lancaster to pioneer the farm-to-table movement.
While the transition didn't run as smoothly as he would've hoped in the beginning, Sean is grateful that things have progressed since then.
"There wasn't really a lot of guidelines for what farm-to-table was. We made lots and lots of mistakes. Plus, the recession started not too long after we had opened," he recalls. "But, we figured it all out. We were closer to the farmers, so we could actually cook, talk and work with the farmers. We had to work on these relationships. It finally worked, but it just took time. It's a lot smoother today."
He encourages other restaurateurs to take the leap, noting that many are afraid of taking that chance from a culinary viewpoint. "A lot of people don't know how to work directly with the farmers and how to change the menus, but we've made all of these mistakes so other people don't necessarily have to remake them."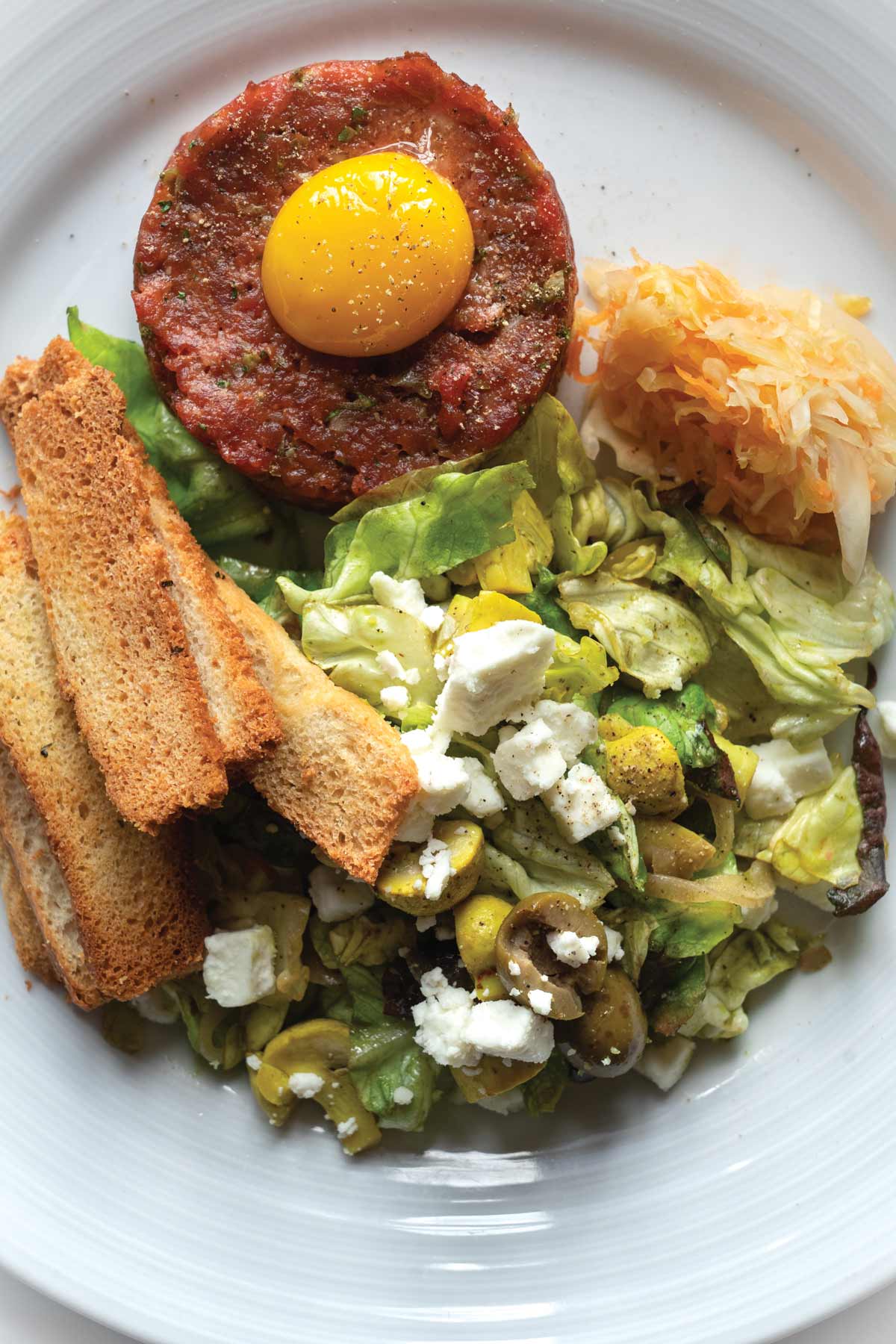 The goal, according to Sean, is "for what we do to become normal, and it hasn't." Bottom line: Americans want cheap food. But, according to Sean, "You're better off eating less higher-quality food and saving money in the long run because, hopefully, your health will be better if you take care of yourself now. So, you either pay now or you pay later. What's that saying? 'Pay the farmer now or pay the doctor later.'"
Buying local also boosts the area economically. "Why wouldn't you want that money to stay in our county or in our state? It's better for schools, policemen, firemen; it's better for everything," he points out.
While the restaurant is considered fine dining – seating options include two dining rooms, the gallery, the bar area and an outdoor terrace – Sean says the attire is usually business casual. The menu is seasonal and consists of small and large plates; however, the protein may change from time to time. "We always have pork, beef and venison or lamb. For poultry, it's either chicken, duck, pheasant, young turkey, geese or guinea hens; it could be a breast, a leg, etc.," he shares. "We probably use close to 1,500 lbs. of bones a month. That's the basis for most of our sauces."
John J. Jeffries' beef comes from Lil' Ponderosa Beef, a ranch in Carlisle owned by Bob Boyce. Sean is happy to share that his restaurant owns a USDA slaughterhouse in Chambersburg, where the meats are dry-aged between 14 to 21 days, depending on the carcass. "We hang it, cut it and bring it in" to the restaurant.
If the menu calls for beef, that could be anything from ribeye, New York strip, sirloin or brisket to flat irons, skirt steaks, braised or short ribs.
One of the restaurant's signature items is called The Truth, consisting of beef tartare. "I put that on the menu, and it's been on there since the beginning. Why name it The Truth? Can you handle it? It's high-quality molded raw chopped beef. It's also very popular with European clientele," Sean notes.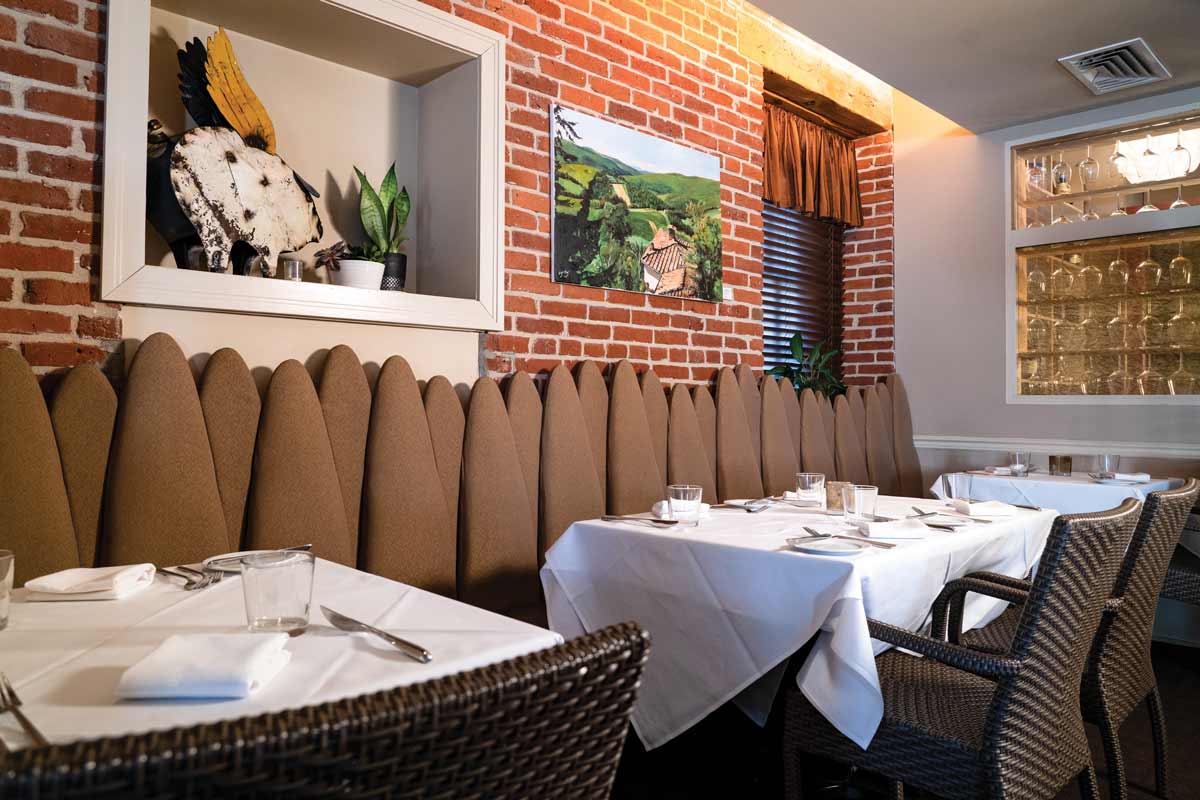 Other items that are standard on the menu include the Surf & Turf, sea scallops, and the Jim Bim Bop (a Korean pork and rice dish). Sauces are made in-house, as is their kimchee. "We also prepare a lot of gluten-free dishes. We make everything from scratch, so we know what's in everything. Most of the menu just happens to be gluten-free."
Beverages include Pennsylvania beers, wines and spirits. One special libation is called 730 South Broom Street. "That was my grandmother's address. When we would come in from Pittsburgh to go to Wilmington, the entire family would get together – an Irish family – and we always made whiskey sours."
John J. Jeffries seems to be reaping the benefits of its excellent reputation, but it wouldn't be the restaurant it is today without the great farmer connections and outstanding staff.
"Two of the biggest things for our success have been the farmers and the staff, and that's interchangeable. Our staff is really good, and they take care of people. It's a really good professional crew," he says.
Every day, the restaurant has a "family meal" for the staff. "One of my mentors when I was younger said, 'Always take the time to sit down and eat at least once so that you can take care of yourself … Take care of yourself and take care of business as well.'
"It's just nice for everyone and builds teamwork. We're all an extended family. It gives our staff a chance to eat and some time to unwind before getting started."
When visiting the restaurant's website, one will notice an entire page dedicated to the eatery's belief in charitable giving. Sean and Michael believe in giving back not only to the community, by donating monthly to local foodbanks, but also by giving on an international level. "Through effective altruism initiatives, most of that money goes to actual people in need. Half isn't spent on fundraising or billboards. We're not a big corporation, but we want to help where we can. At least we know if we concentrate our giving through effective altruism, we can make an impact for a
small business."
The restaurant also provides micro loans through Kiva, an international nonprofit whose mission is to expand financial access to help underserved communities thrive. "The more we give, the more we get back."
John J. Jeffries, located in the Lancaster Arts Hotel, 300 Harrisburg Avenue, Lancaster. Hours of operation: Dining, Monday-Saturday, 5:30-10 p.m. & Sunday, 5:30-9 p.m. Bar, Monday-Saturday, 4 p.m.-12 a.m. & Sunday, 4-11 p.m. 717-431-3307, JohnJJeffries.com or on Facebook.