Lancaster County is widely known for its Pennsylvania Dutch heritage. Rolling farmland, horse-and-buggies, fresh produce, homemade goodies and roadside stands have become synonymous with the area. Visitors from near and far continue to flock here to taste wet-bottom shoofly pie and homemade, melt-in-your-mouth chicken pot pie. However, a thriving, diverse dining scene is helping to reinvigorate and redefine Lancaster as a foodie destination … and word is spreading.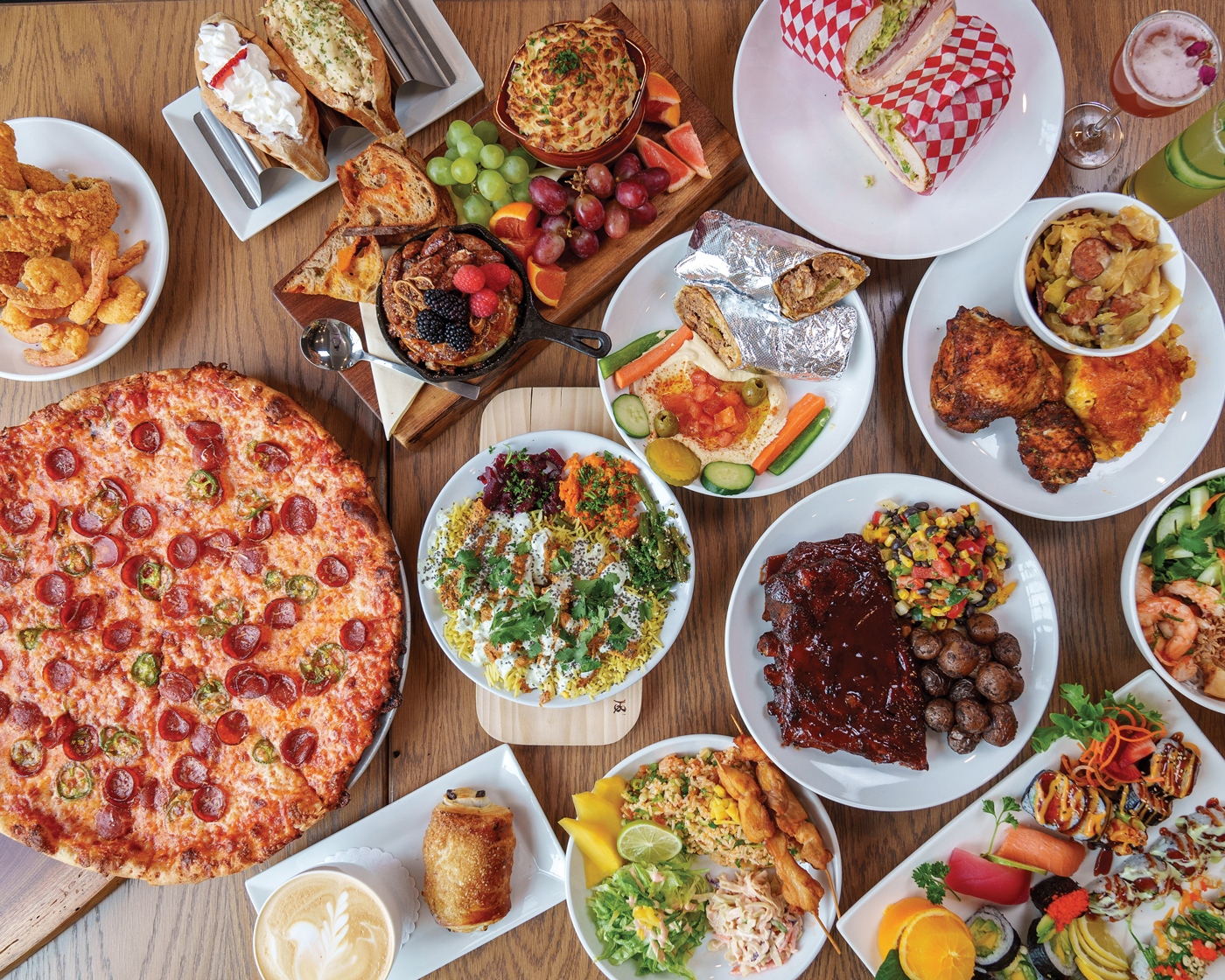 he New York Post named Downtown Lancaster "the new Brooklyn" in 2016, thanks to the city's "culture, design and a rich culinary scene." Thrillist included Lancaster in their 2018 article titled "15 American Cities That Secretly Have Great Food Scenes." In 2019, a headline in The New York Times touted Lancaster as "A Global Feast in an Unlikely Spot." Most recently, Better Homes & Gardens featured foodie destinations in Downtown Lancaster in their March issue. The nationwide acclaim only confirms what locals already know: Lancaster County is a special place.
Visitors and locals alike can agree that exploring Lancaster's food culture is essential for experiencing the county. The dining scene reflects the people, values and history that make Lancaster special. 
Mainstay stands at Lancaster Central Market have been operated by the same families for generations. Many families have established roots here through their restaurants, bringing diverse flavors that echo their own traditions and cultures, representing cuisines from as far away as South America and Asia and as close to home as our beloved Pennsylvania Dutch heritage. 
Lancaster County's fertile farmland and dedicated farmers provide the freshest ingredients for local chefs to experiment with and build seasonal menus around. 
Rich history provides the charm and character for many restaurants housed in centuries-old buildings. Beautiful country landscapes and evolving city skylines provide panoramic backdrops to admire while you dine.
From cozy cafés and family-friendly experiences to rooftop bars and fine dining, Lancaster County offers an abundance of taste-tempting options. Whether you are looking for farm-to-table fare or global cuisine, you can find it here. As we like to say in Pennsylvania Dutch, kumm esse, or come eat!
Brunch

On Orange
Located in Downtown Lancaster, On Orange is beloved among locals for its cozy atmosphere and simple brunch menu, which features items such as omelets, chilaquiles and their popular Swedish waffles and pancakes. Dine indoors surrounded by local art or out on the charming patio during warmer months.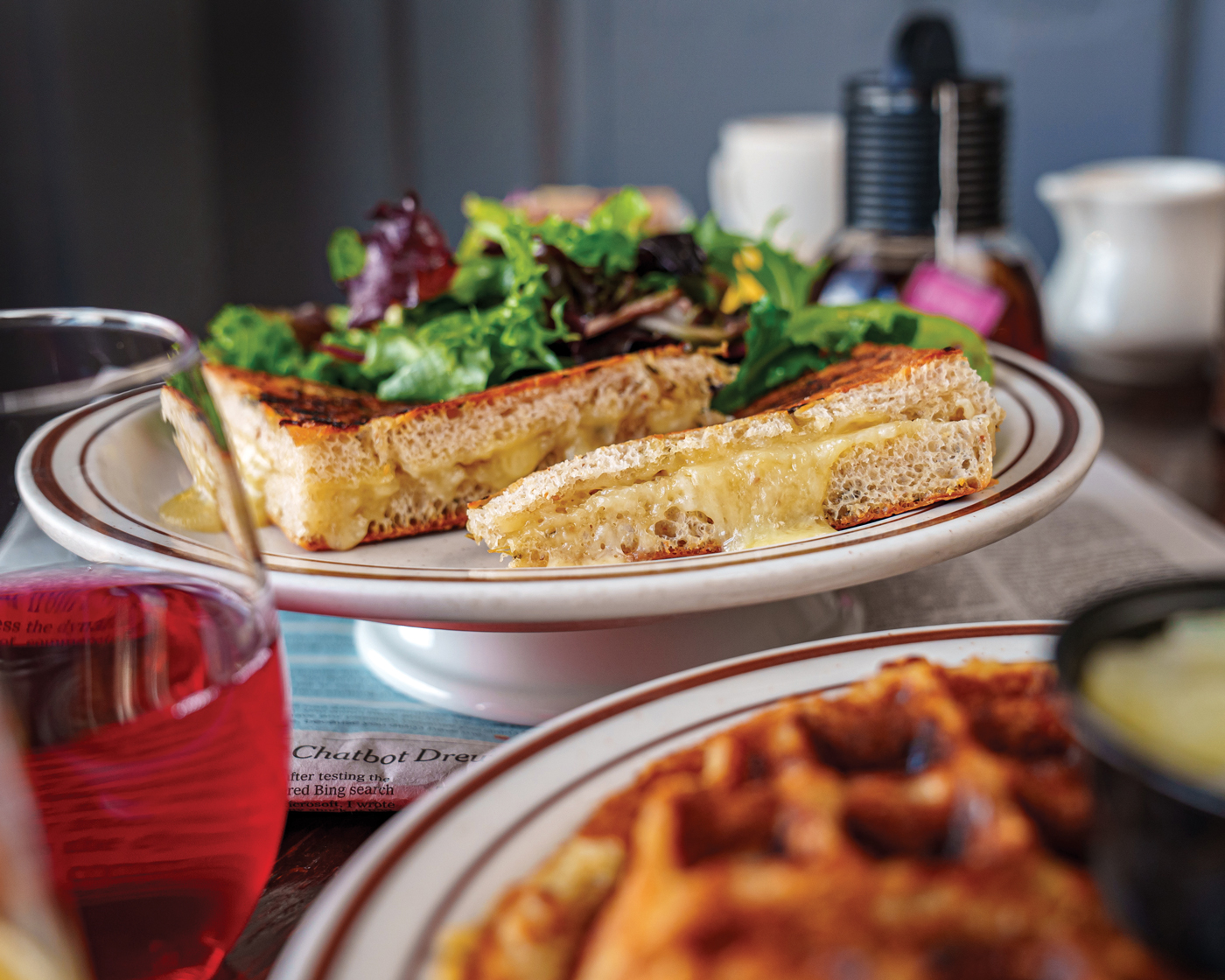 On Orange serves brunch from 8 a.m. to 1 p.m. on Fridays, Saturdays and Sundays. The brunch spread shown here features a Swedish waffle topped with stewed apples and real maple syrup; the Hog Island grilled cheese, composed of gruyere and 24-year-aged cheddar on herb focaccia; and the Dad's Scramble, three scrambled eggs with ham and cheddar cheese, served with a side of roasted tomatoes and toast. The food is accompanied by tea, cranberry juice and fresh-squeezed orange juice.
108 West Orange Street, Lancaster. Onorange.wordpress.com. 
Dinner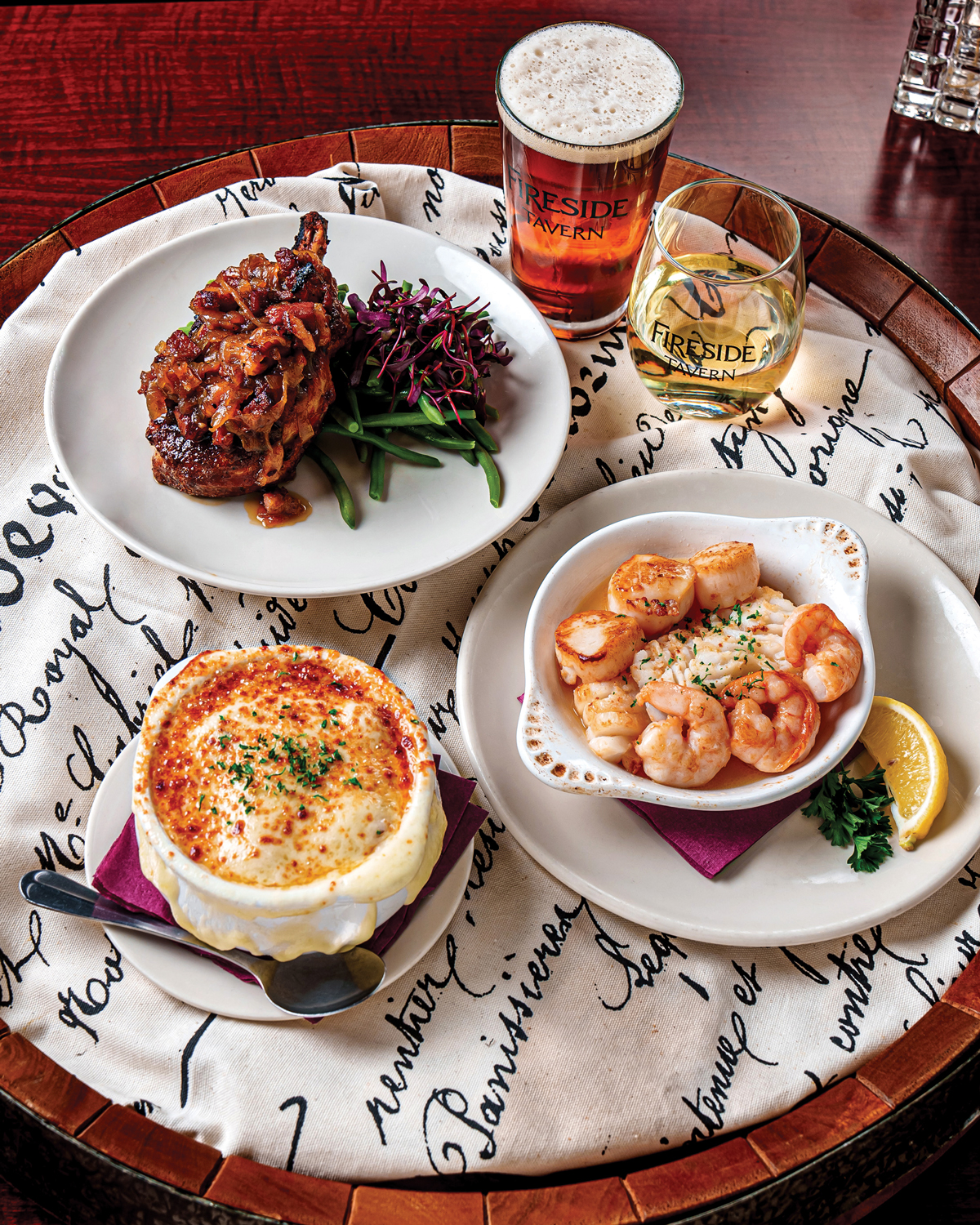 Fireside Tavern
Fireside Tavern offers casual dining in a warm atmosphere, a wide-ranging menu and views of picturesque farmland. The restaurant makes its home in a brick Colonial-inspired building that echoes Strasburg's heritage. The menu features an array of appetizers, light fare options, sandwiches and burgers, house-made soups, salads and entrées. Special menu items are also frequently offered. The menu is complemented by the tavern's selection of cocktails, beer and wine.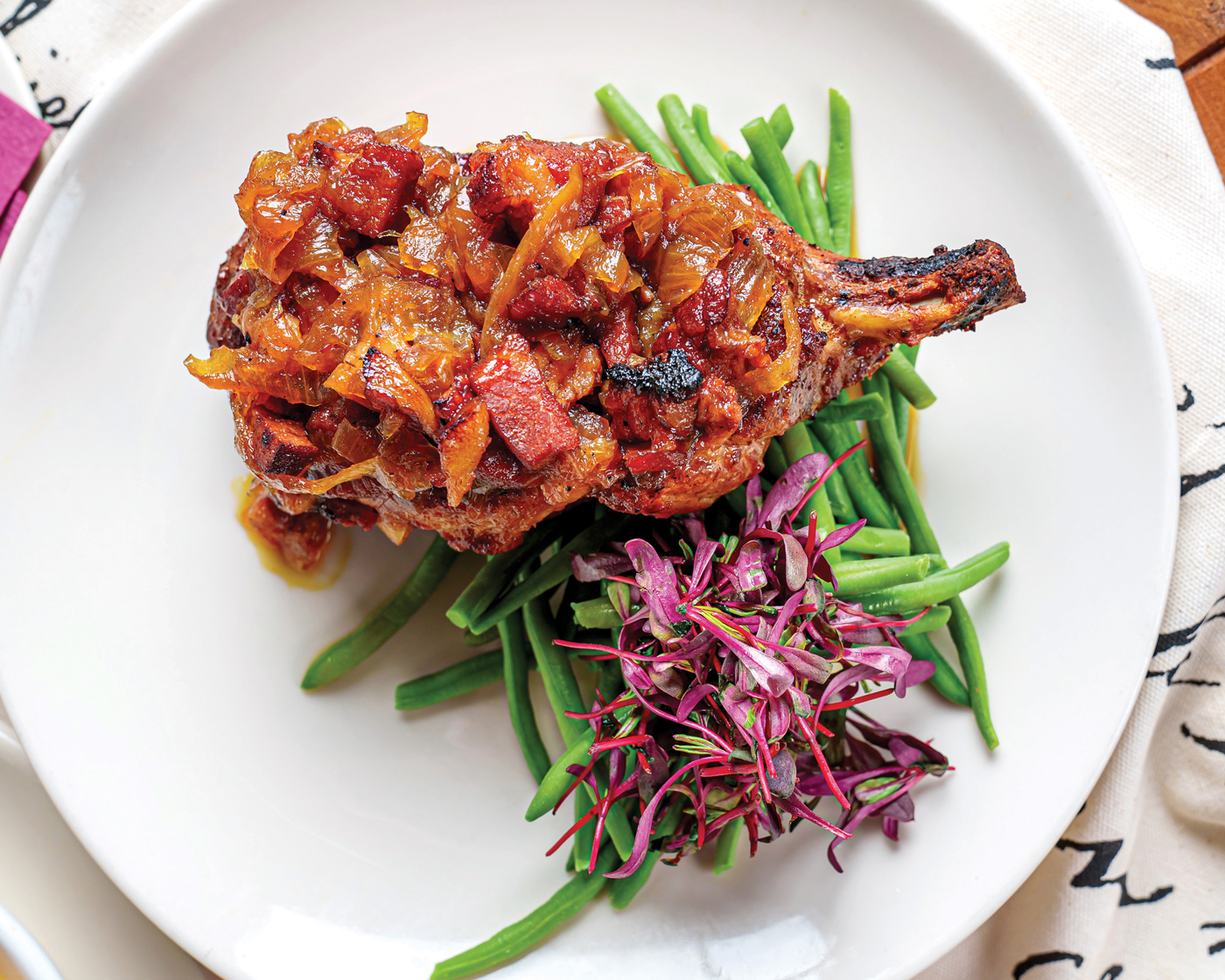 Dishes shown here include the bone-in pork chop, blackened and topped with bacon jam and served with green beans; the signature tomato bisque, made with chunks of tomato, onions and mushrooms, topped with croutons, mozzarella and provolone cheeses and then broiled; and the broiled seafood platter, featuring shrimp, scallops and cod baked with butter.
1500 Historic Drive, Strasburg. Dsfireside.com. 
Pennsylvania Dutch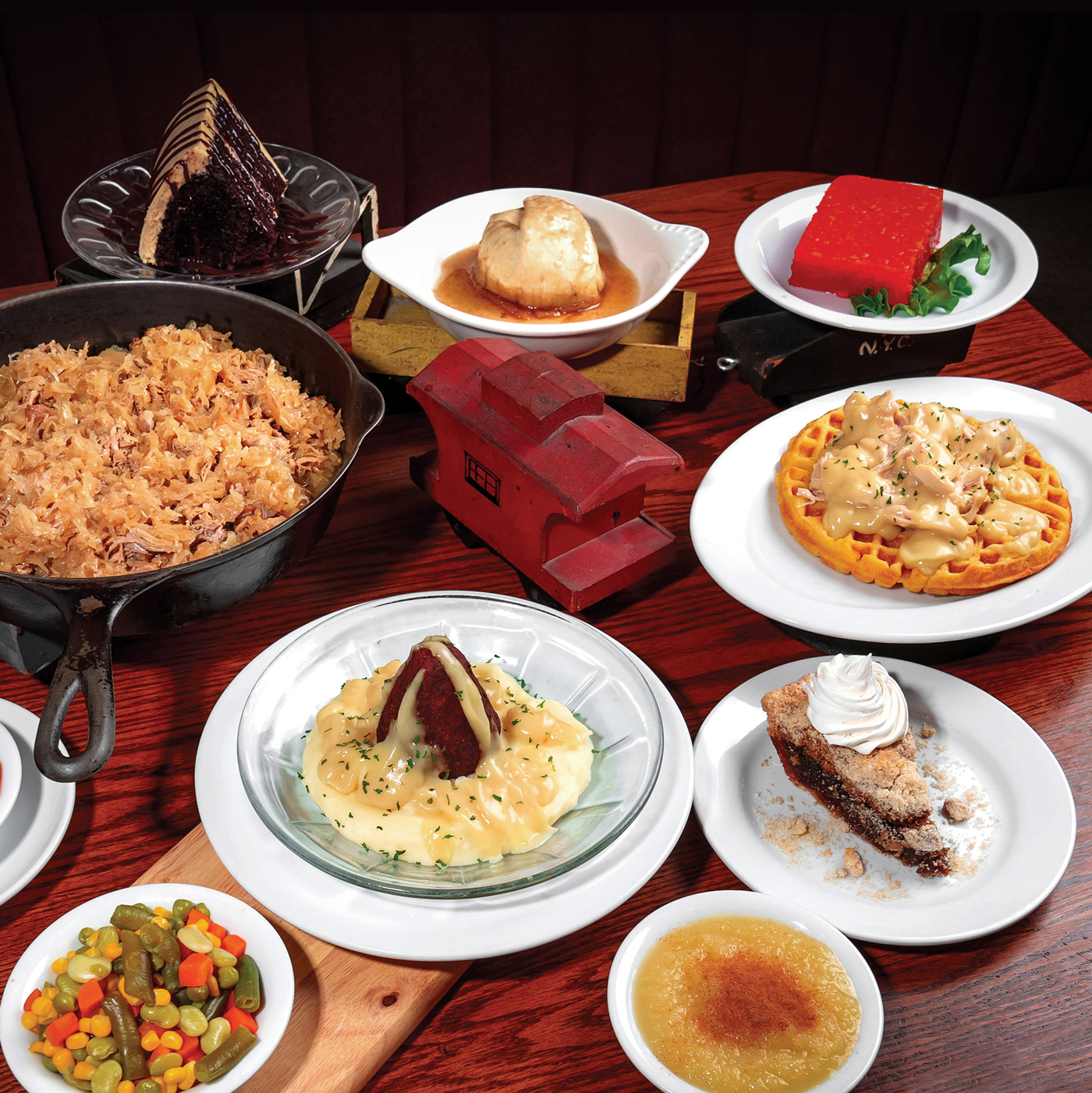 The Restaurant at Oregon Dairy
You can't beat the freshness of a restaurant located on its own farm. Oregon Dairy not only houses a restaurant, but it is also home to a market, an award-winning bake shop, ice cream shop, farmstead, seasonal events and more. The Restaurant at Oregon Dairy provides traditional Pennsylvania Dutch cuisine alongside contemporary favorites. Buffet options and an all-day breakfast menu are also offered.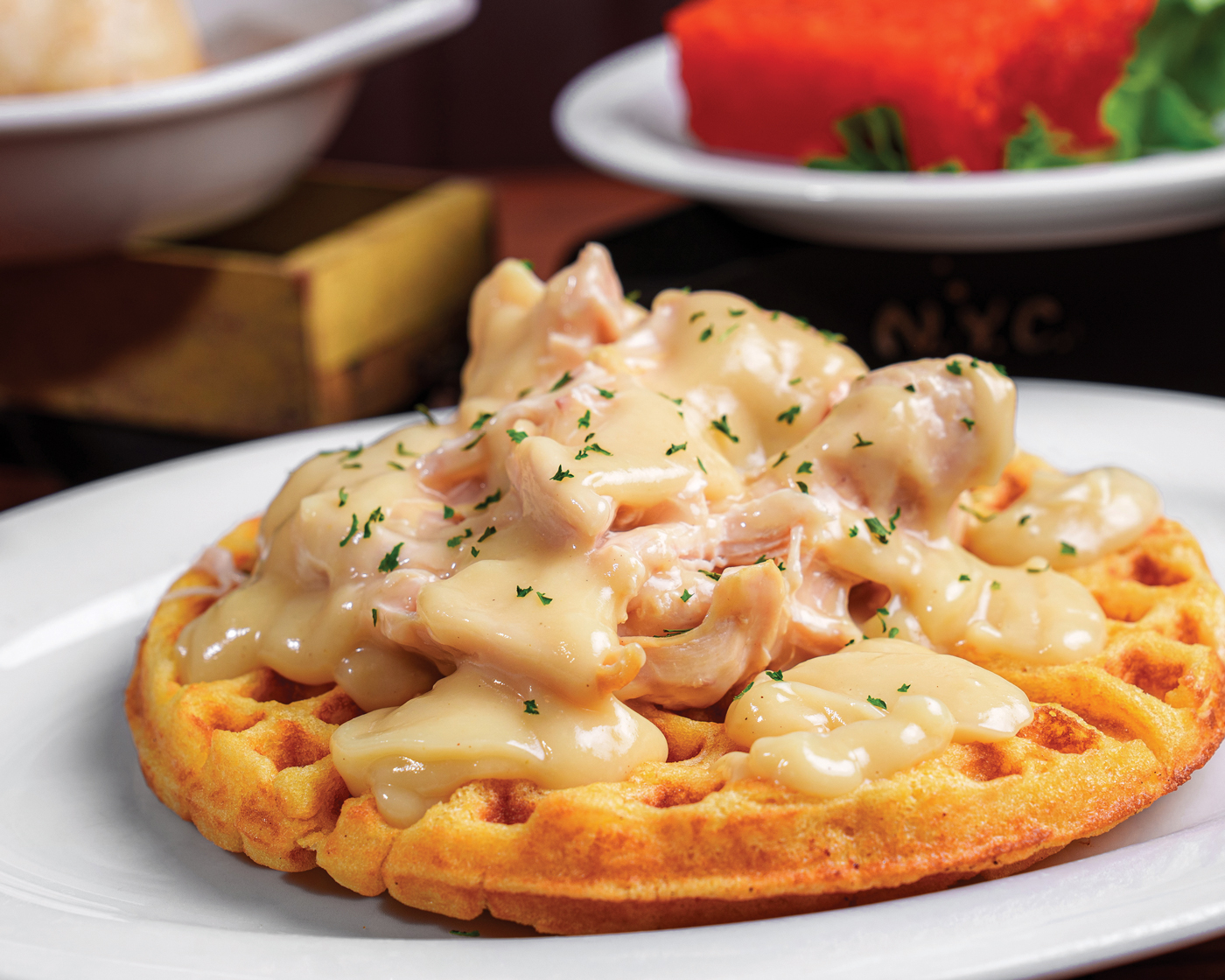 Pictured entrées include pork and sauerkraut, chicken croquettes over mashed potatoes and chicken and waffles. Side dishes include mixed vegetables, applesauce and carrot-pineapple Jell-O salad. Desserts include chocolate cake with peanut butter icing and chocolate drizzle, apple dumpling and shoofly pie.
2900 Oregon Pike, Lititz. Oregondairy.com. 
Take-Out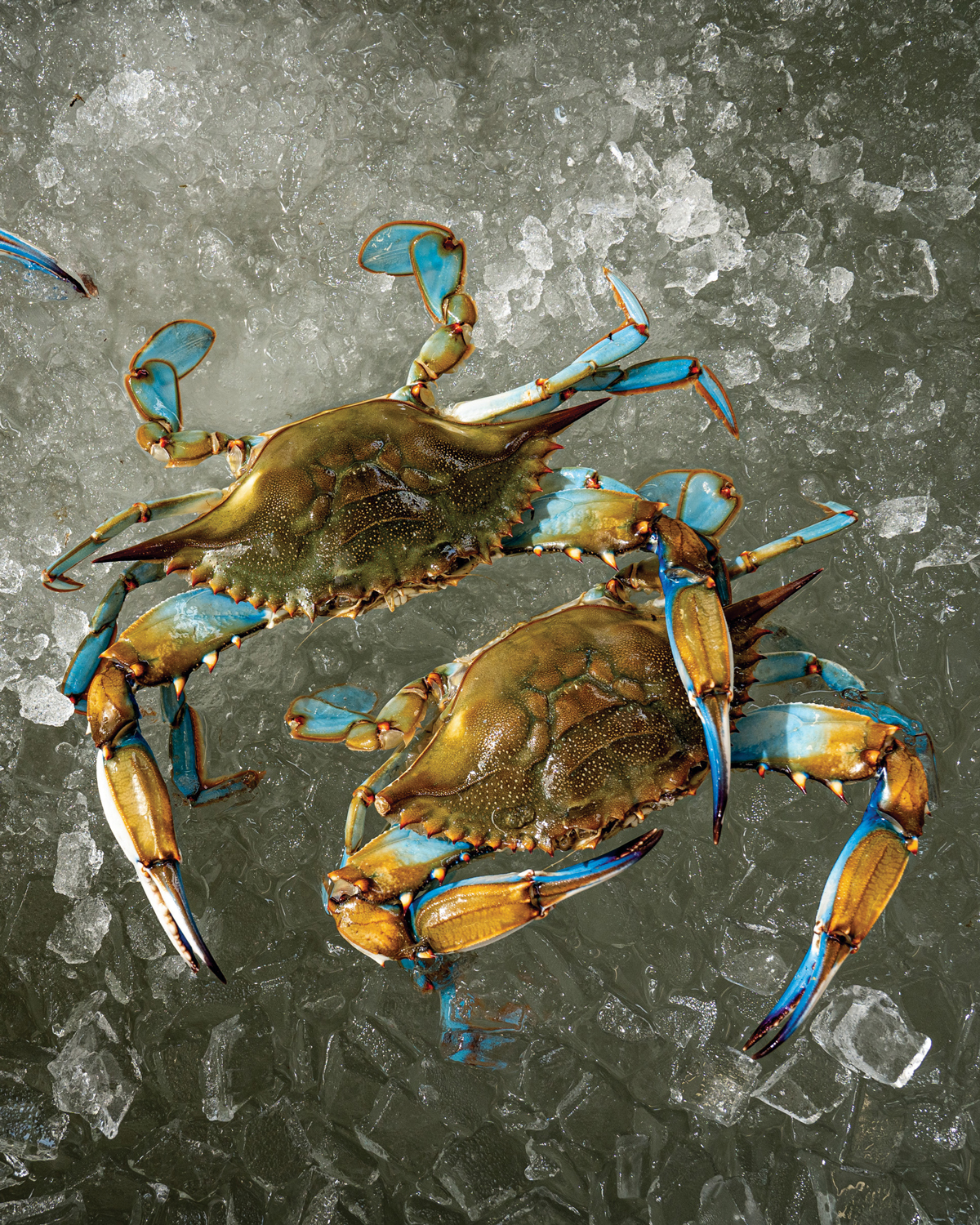 Mr. Bill's Fresh Seafood and The Fat Crab Café
Mr. Bill's Fresh Seafood and The Fat Crab Café bring the taste of the beach to Lancaster County all year round. The market offers heat-and-eat prepared foods, fresh seafood salads and party trays. The Fat Crab Café's menu is also available for take-out. Popular menu items include fish & chips, crabcake sandwich, lobster roll and po'boys. Items from the steamer include snow crab clusters, red king crab legs, jumbo shrimp, Middle Neck clams, Prince Edward Island mussels and lobster. Soups are made fresh daily and shift seasonally to take advantage of local ingredients. Pictured are blue crabs, which Mr. Bill's sources from the Chesapeake Bay, the Carolinas and Louisiana.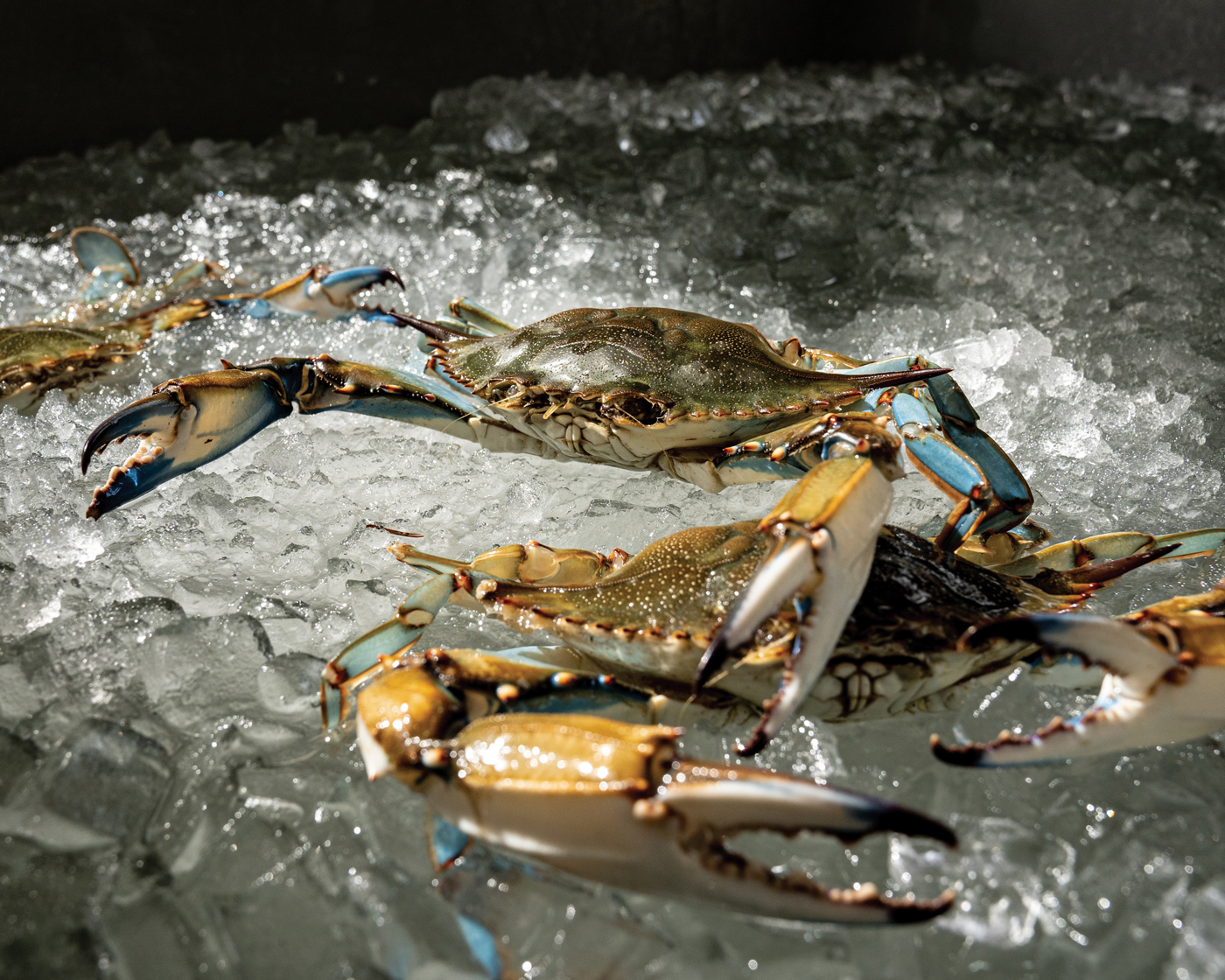 430 Harrisburg Avenue, Lancaster. Mr. Bill's also operates a stand at Lancaster Central Market, 23 North Market Street, Lancaster. Mrbillsseafood.com. 
Drinks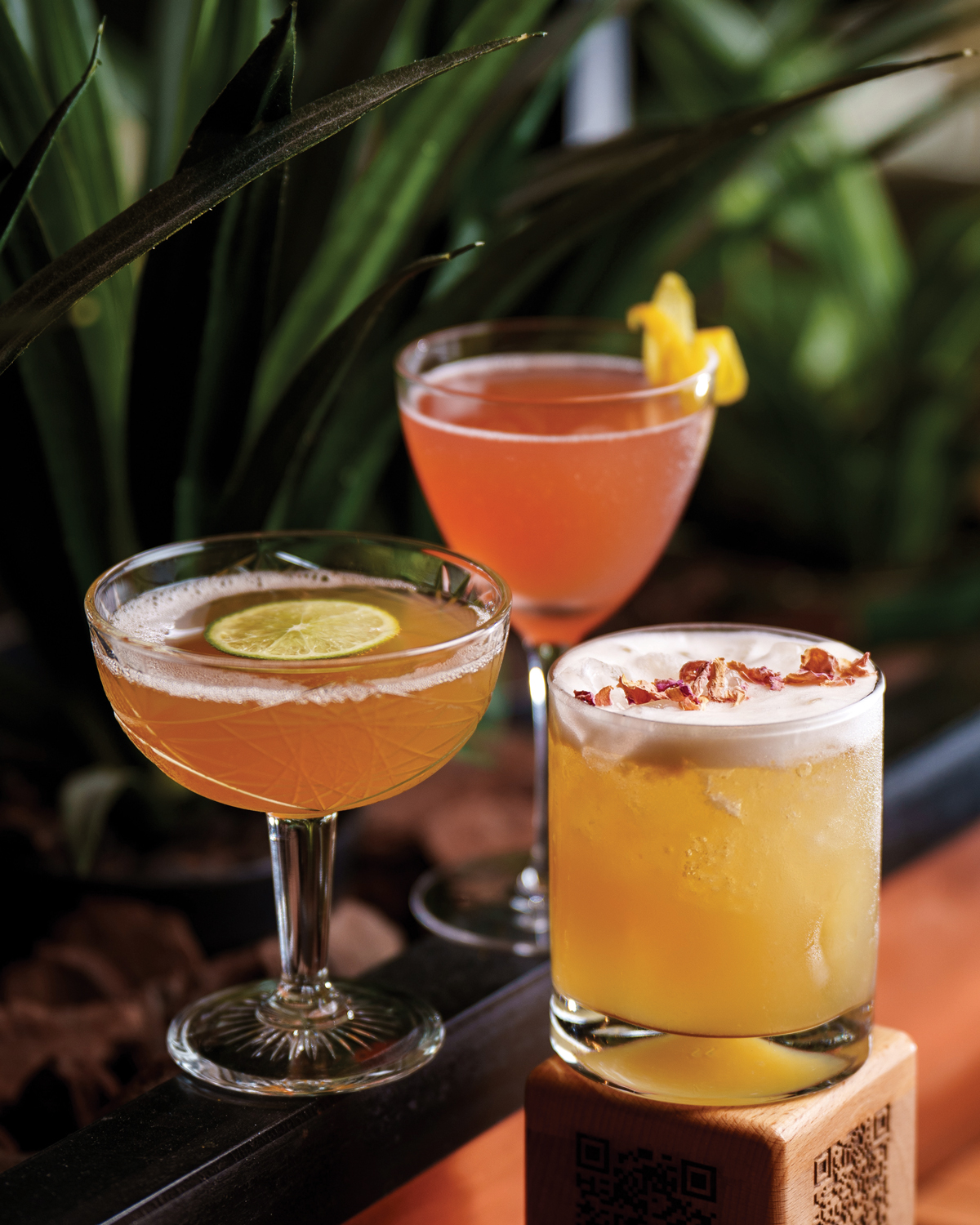 Per Diem
Located in Hotel Rock Lititz, Per Diem provides a rock-n-roll vibe while also paying homage to the farm-to-table movement. Per Diem's bar has become a favorite spot for drinks for hotel guests and locals alike. The bar offers a wide range of specialty crafted cocktails and mocktails. Wine selections are sourced from across the globe, from New York to Argentina to Australia. The beer list offers a diverse selection of cans, bottles and drafts.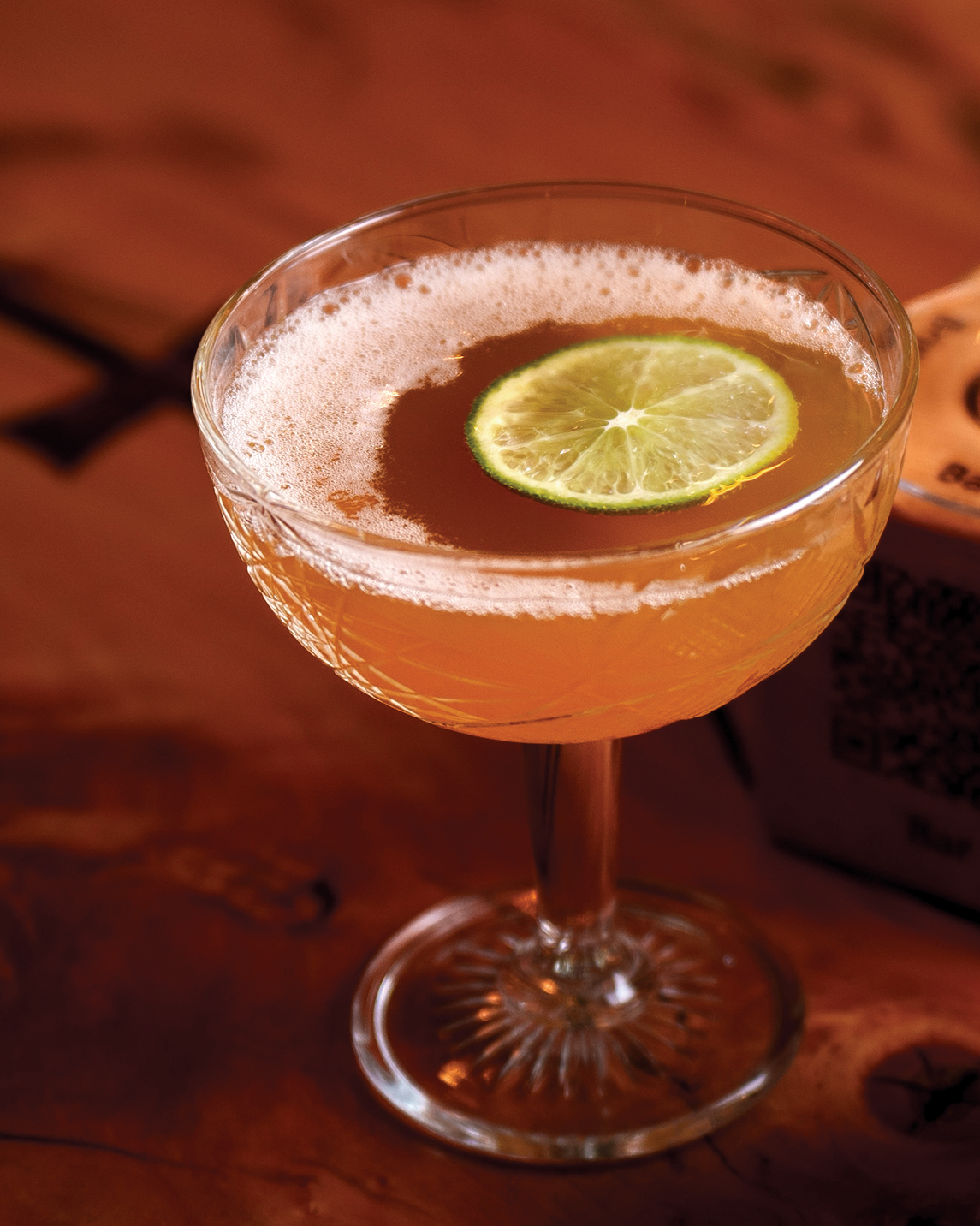 Cocktails pictured include (left to right): Above the Weather, made with a barrel-aged dark rum blend, house-made ginger-and-mint syrup and lime juice; The Lil' Folk Singer, consisting of Tanqueray Gin, Fords Sloe Gin, grapefruit and house-made aronia berry syrup; and Guns N' Rosehips, composed of Old Forester Bourbon, Montenegro, house-made rosehip-and-cinnamon syrup, citrus stock, lemon and egg white.
50 Rock Lititz Boulevard, Lititz. Perdiemlititz.com. 
Dessert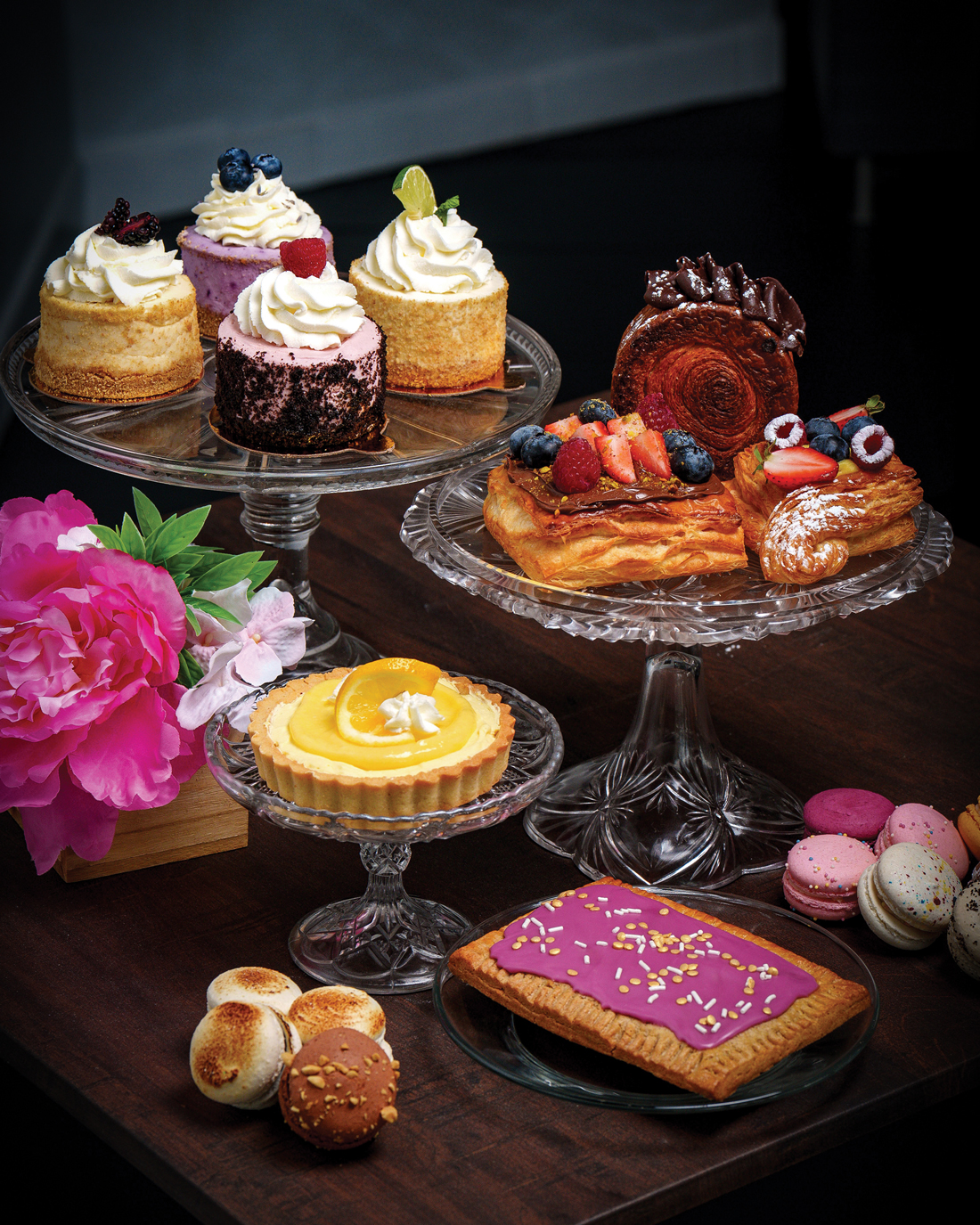 La Petite Patisserie
Walk into La Petite Patisserie and you will be greeted by a colorful array of tarts, macarons, cheesecakes, merengues, croissants and other delicious treats. Indulge your sweet tooth and explore the diverse flavors and pastry offerings. Brunch and lunch items are also available. A variety of coffee, tea and espresso drinks accompany the food menu.
Pictured: On the highest platter are cheesecakes, with flavors including classic, raspberry, blueberry-lavender and mint-mojito. On the second tier, pastries include a Nutella square topped with berries and pistachios; the Supreme, which is topped with chocolate ganache and filled with chocolate pastry crème; and a croissant Danish filled with pastry crème and topped with fruit. A lemon tart is shown on the third tier. Plated is a blueberry Pop Tart. Macaron flavors include s'mores, Snickers, Lucky Charms, cookies and cream, vanilla birthday cake and raspberry.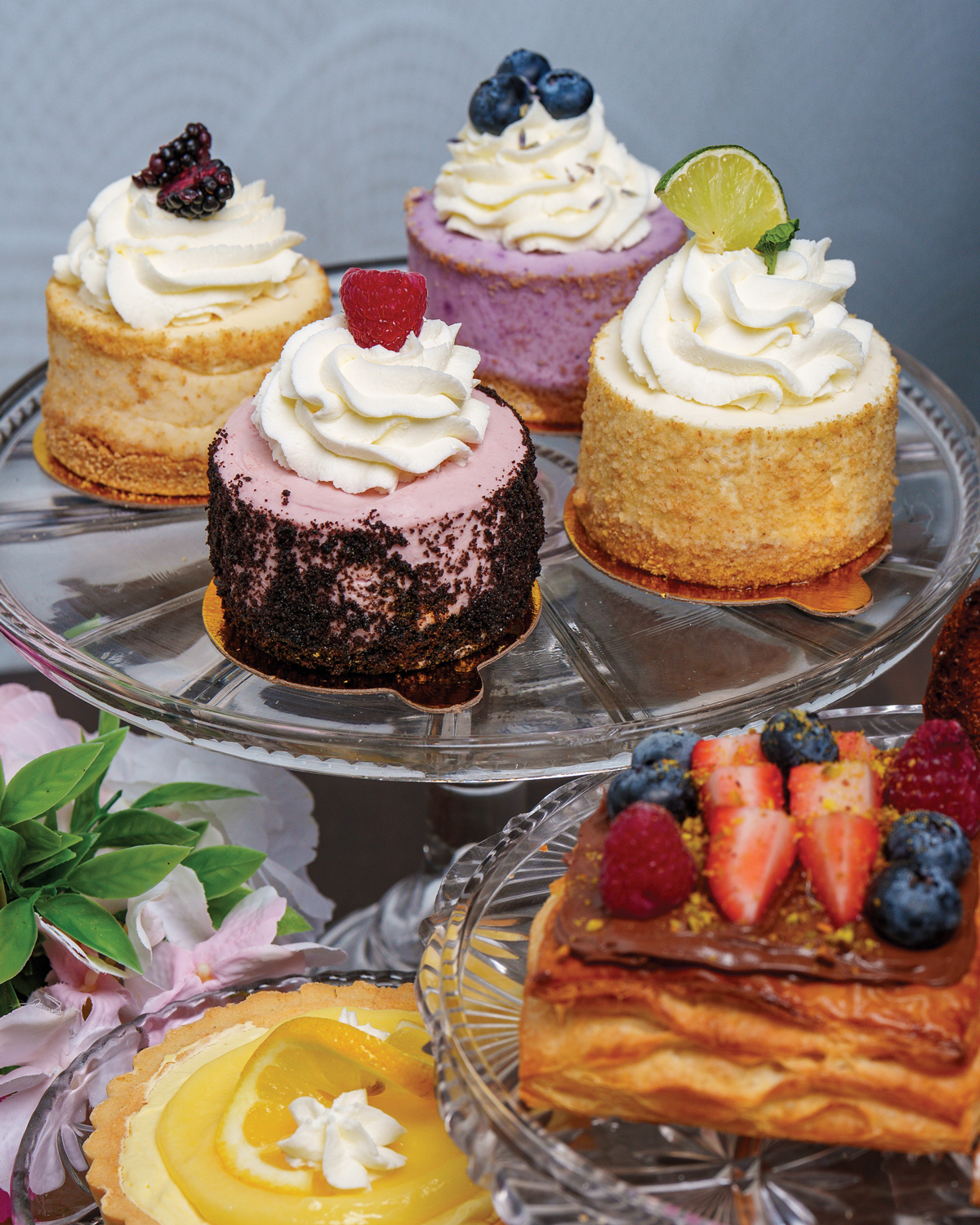 621 Harrisburg Avenue, Lancaster. Petitedessert.com. 
Global Dining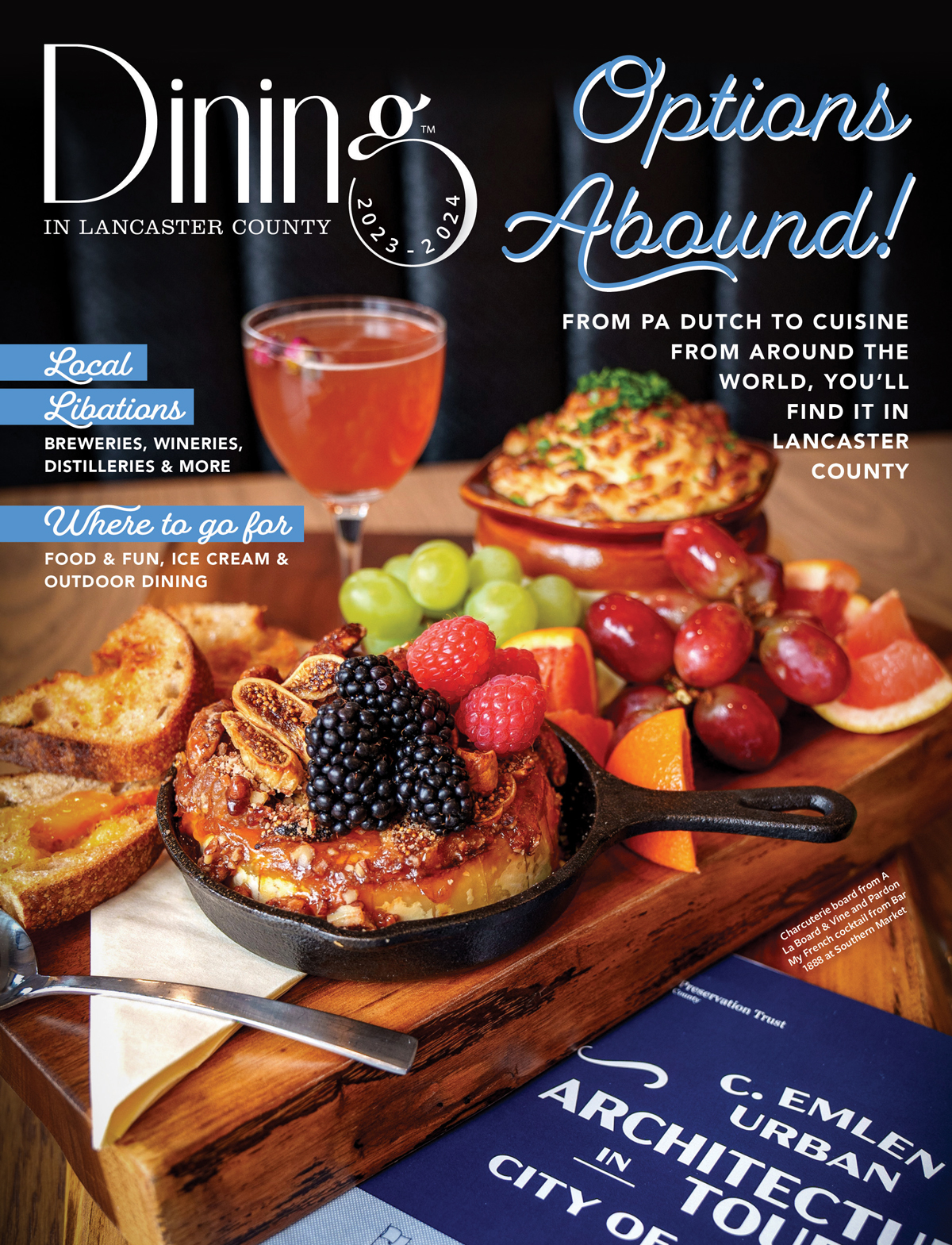 Southern Market
Grab a small bite or curate a multicultural feast with a group of friends at this bustling food hall. Built in 1888 and designed by famed local architect, C. Emlen Urban, the market building was recently renovated and transformed into a food hall in partnership with Willow Valley Communities. The goal of the food hall is to become an incubator for up-and-coming local chefs who create cuisine that is globally inspired and locally sourced. Cuisines such as Middle Eastern, Dominican, Moroccan, Vietnamese, French, Japanese, Italian, Laos-Colombian fusion and Southern soul food are currently represented at Southern Market. Cocktails and other libations are poured at Bar 1888, which is tended by well-known Lancaster mixologist, Stephen Wood.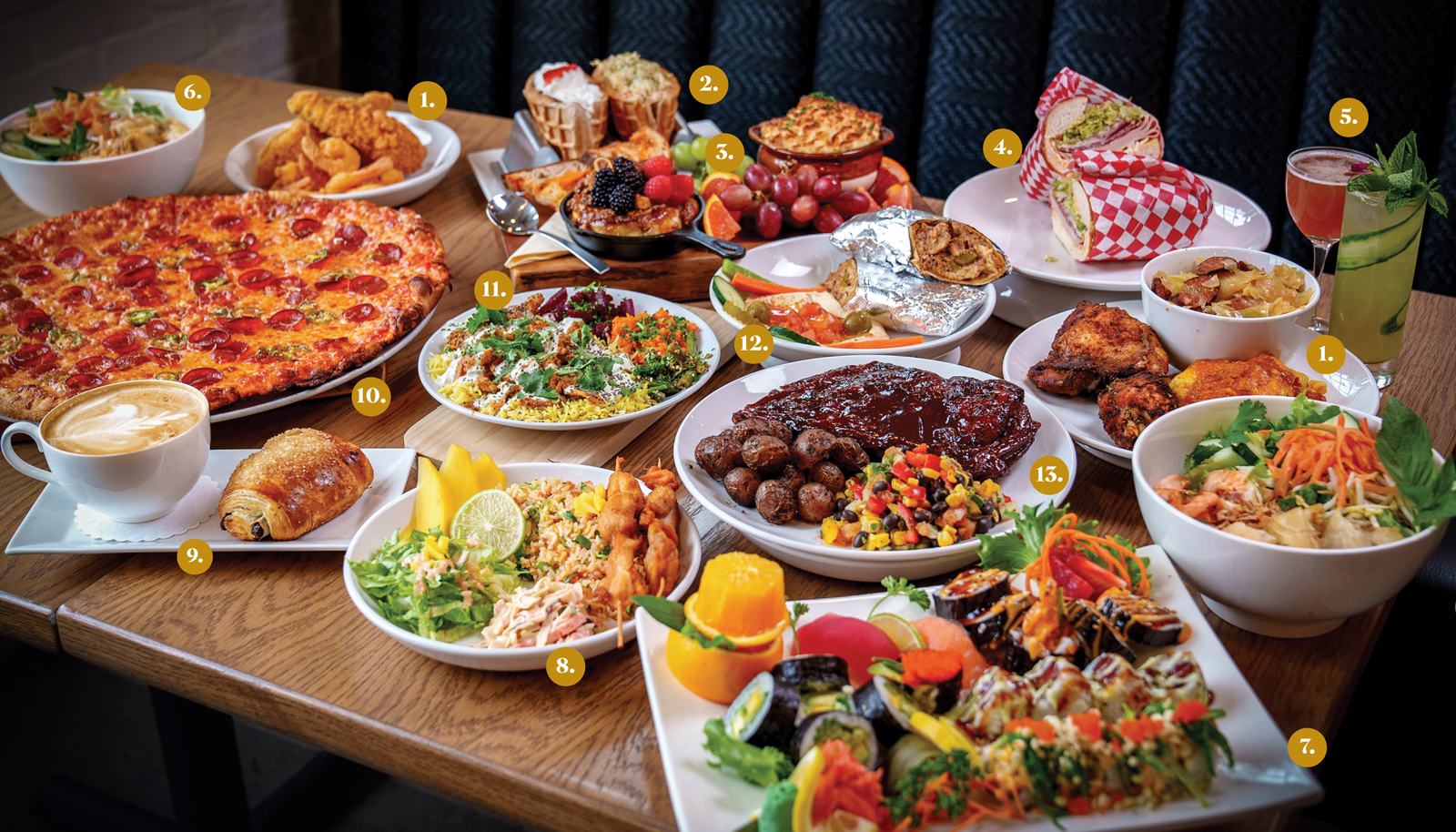 Pictured:  
X Marks The Spot: Fried fish and shrimp, as well as herb-roasted chicken with fried cabbage and mac & cheese.
Dough Heads Waffles: Chicken & gravy and Nutella berry wockets.
A La Board & Vine: Baguette and baked brie skillet topped with berries and fig and accompanied by shepherd's pie. 
Cozy: The Italian, made with Italian meats and cheeses, shredded lettuce, onion and cherry-pepper aioli. 
Bar 1888: Pardon My French and Tropical Cold Snap seasonal cocktails. 
Pho Life: Sweet chili tofu and eggroll noodle salad and sweet chili shrimp and eggroll noodle salad. Noodle salads are composed of rice noodles, lettuce, bean sprouts, cucumbers, basil, cilantro and fried onions.
Akhi Sushi: Assorted sushi. 
Mekatos Eatery: Nam Khao, or Laotian broken rice with cilantro and lime, served with skewered chicken.
Butter and Bean: Latte and chocolate croissant.
Pizzeria 211: Hand-tossed pepperoni and jalapeño pizza.
Flavors of Morocco: Chicken tikka masala, which is roasted chicken breast prepared in a curry cream sauce, served over rice with beets, carrot and green beans. 
Layali El Sham: Shawarma wrap filled with chicken marinated in their specialty seasonings and topped with tahini and pickles. Served with hummus on the side. 
Four E's Latin Cuisine: Maple BBQ ribs served with black-bean salad and herb-roasted potatoes. 
100 South Queen Street, Lancaster. Southernmarketlancaster.com.