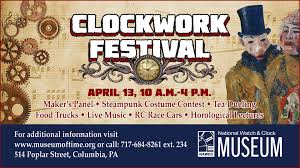 First Annual Clockwork Festival
The NAWCC National Watch & Clock Museum will hold its first Annual Clockwork Festival Saturday, April 13, from 10 a.m.-4 p.m. This fun and educational event brings together enthusiasts of the Make Movement, Steampunk, Gearworks, and Automaton communities all under the umbrella of horology (the art and science of the study of time). Vendors will be selling related items as well as food and drink.
There will be two panel discussions, one focusing on horology and one focusing on the Maker Movement. These panels will trace the connections among gear-related creations, automata, engineering and horology. Participants will include Michele Marinelli and Jere Ryder, both of the Morris Museum Guinness Collection (Morris Township, NJ), Brett King from AutomataCon, Steampunk maker Don Dodson, and Lindsey Pei, watchmaker and designer from Ornament Incarnate. Dave Lindow, machinist and maker of the Lindow Rose Engine, will lead a Rose Engine turning demonstration.
In addition there will be a craft contest, behind-the-scenes tour of the museum, Steampunk costume contest and tea dueling. The day will be capped off by a performance by the band Night Watch Paradox.
For more information, go to nawcc.org/clockfest/ or contact us at giftshop@nawcc.org. For directions, hours, and general Museum information, visit our website at museumoftime.org. Pre-registrants will receive a free gift at the event.
Phone: (717) 684-8261
---
Location
514 Poplar Street
Columbia, Pennsylvania 17512
Event Website
Event Categories
---