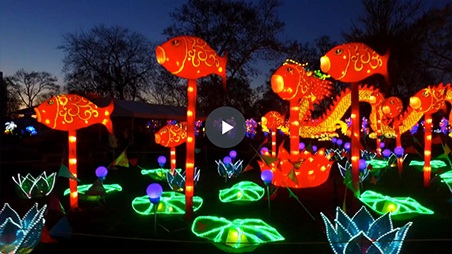 Philadelphia Chinese Lantern Festival
The spectacular Philadelphia Chinese Lantern Festival is a celebration of light and culture that features artisans from China creating magnificent steel-framed and silk-wrapped giant lighted sculptures, using traditional Chinese methods.
In 2018, 130,000 visitors experienced the Philadelphia Chinese Lantern Festival, and a total of over 280,000 have attended since 2016.
The 2019 Festival will illuminate Franklin Square. Bigger than ever before, 30 larger-than-life illuminated displays made of 2,000 individual lanterns and 20,000 LED lights in brilliant colors will glow in the Square. Highlights feature a 200-foot long phoenix (different from previous years' giant dragon), a walk-through dragon tunnel, mythological creatures created from small glass bottles filled with colored water, and a host of interactive installations such as lit swings and a fortune-telling wheel. The lanterns are installed all around the seven-acre Square, and guests stroll under, around and through the displays each evening.
The Philadelphia Chinese Lantern Festival Student Design Contest gives area youth the opportunity to design a lantern for the 2019 Festival. Children ages 8-14 are invited to submit a drawing of a pig to celebrate the Year of the Pig. Lantern artists from China then bring the winning drawings to life and create an actual sculpture based on the students' designs. Submissions are due March 25. More information is available at historicphiladelphia.org/chineselanternfestival/studentcontest.
In addition to the gorgeous light installations, festival-goers will witness authentic cultural stage performances, including the unusual and fascinating face-changers. Visitors can taste Asian cuisine and American favorites, drink a toast at the Dragon Beer Garden open nightly, and shop for Chinese folk artists' crafts created on site as well as Festival-themed merchandise. Guests can also play Philly Mini Golf, ride the Parx Liberty Carousel (additional tickets required for both), and enjoy Center City's best play place. The Franklin Square Playground will continue to be open and free both daytime and during evening hours.
Tickets are now on sale at historicphiladelphia.org/chineselanternfestival.
Phone: (215) 629-4026
---
Location
200 N 6th Street
Philadephia, Pennsylvania 19106
Event Website
Event Categories
---