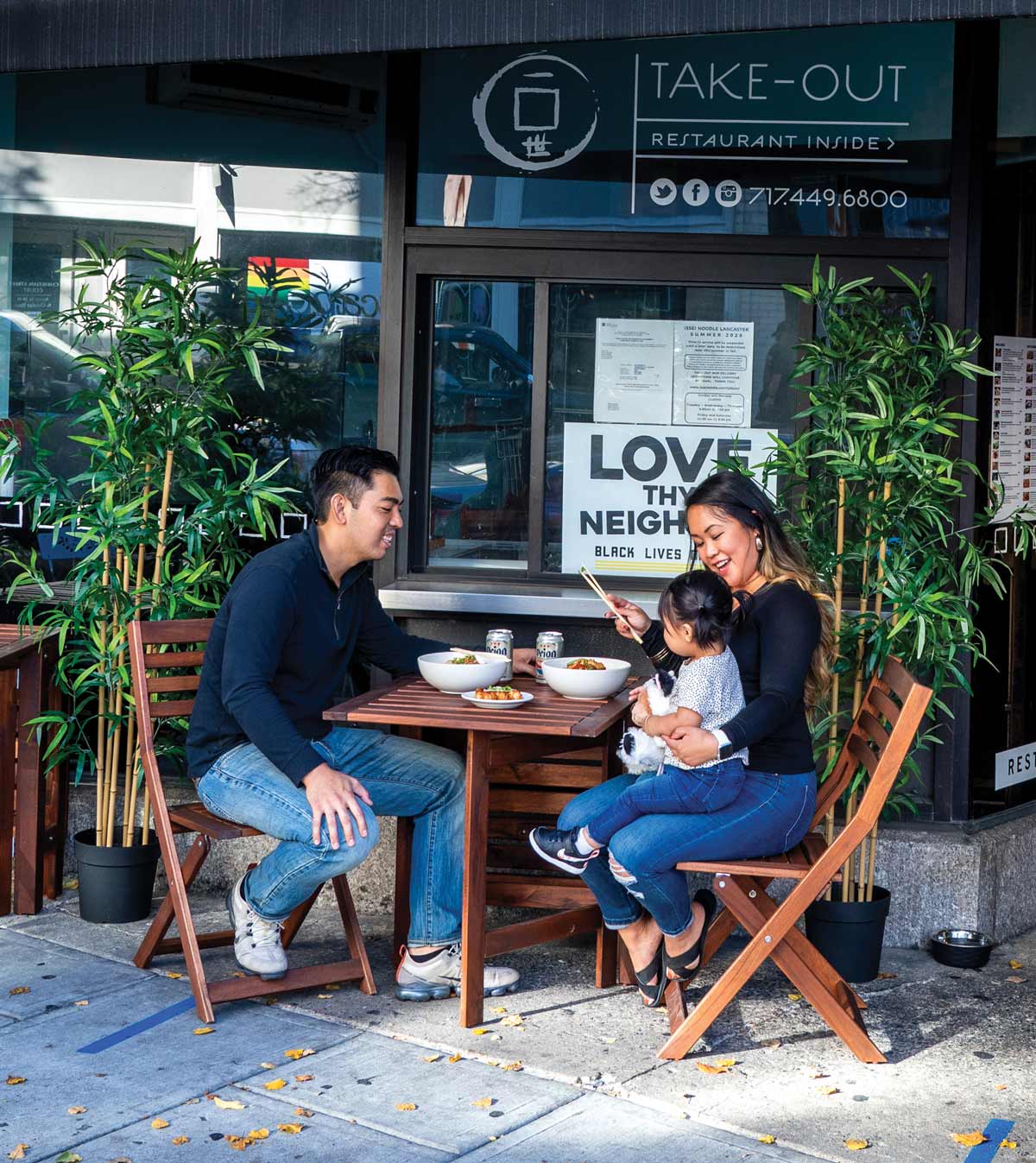 Locals and visitors alike have made Issei Noodle (pronounced "ee-say") a downtown dining destination. Owned by the Pham family, the menu reflects their Japanese, Vietnamese and Thai/Laotian culinary traditions. The name "issei" even translates to mean a Japanese immigrant to North America. As a family-owned restaurant, Issei Noodle treats their guests to the same foods that bring their own family together around the dinner table. Their specialties include various styles of ramen, pho and rice dishes. Issei's hallmarks are quality ingredients, authentic flavors and fresh produce. Guest favorites include spicy tan-tan ramen, pad Thai, spicy ginger chicken and haru ramen.
The restaurant has two locations (Downtown Lancaster and Carlisle) and has been featured in the New York Times. At their downtown location, enjoy lunch or dinner in their 70-seat eatery or treat yourself to take-out or delivery. Sake, beer and other spirits are also available.
44 North Queen Street, Lancaster. 717-449-6800 or isseinoodle.com.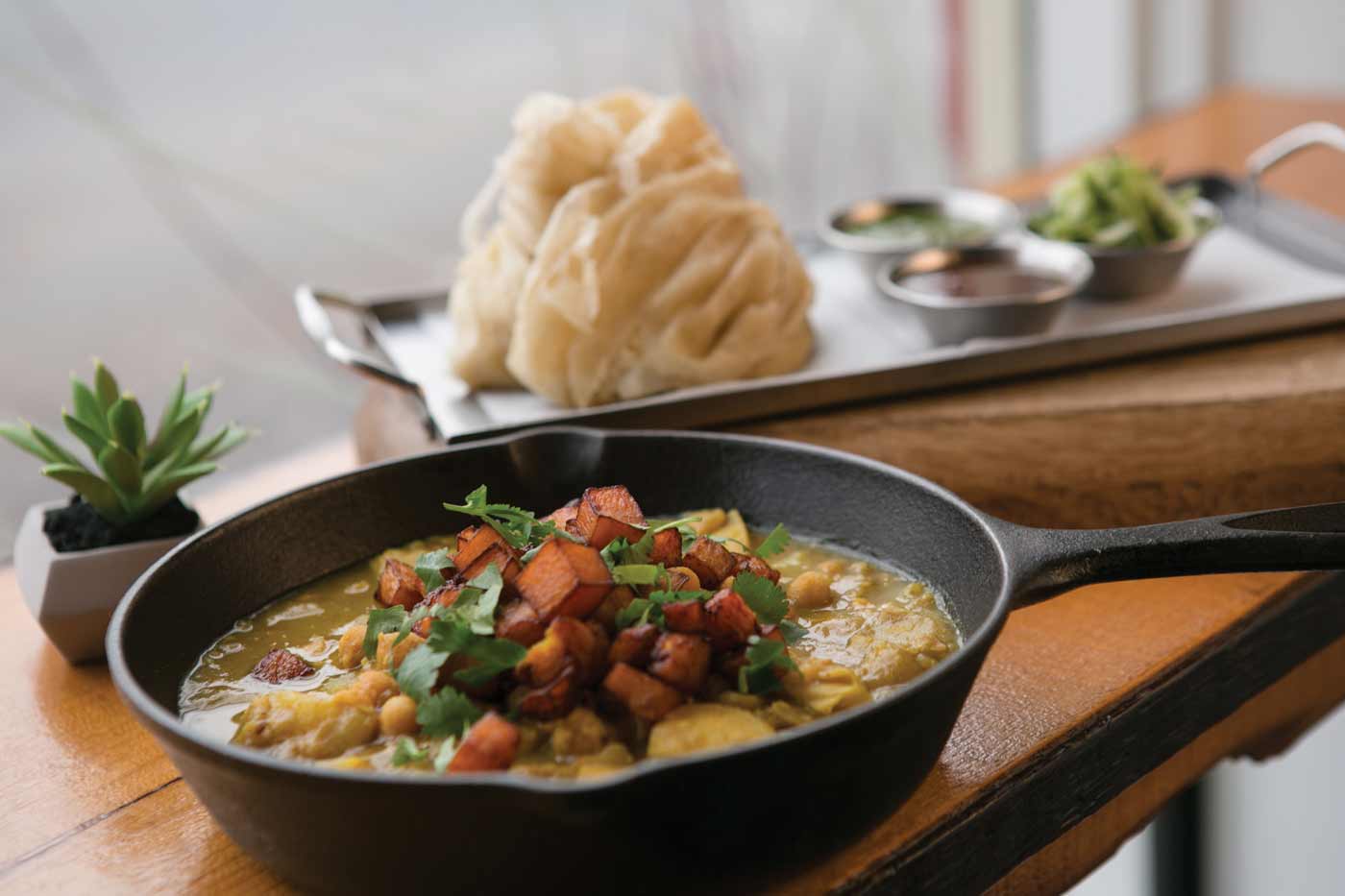 Explore Caribbean cuisine when visiting Callaloo Trinidadian Kitchen. The restaurant's flavorful dishes give customers some insight into the culture and tradition of Trinidad and Tobago. Trinidad is a blend of many ethnic cuisines – mainly French and British – but their food also has connections to Indian and West African cuisine. Pair these influences with the availability of unique tropical ingredients and you get an unforgettable range of flavors and combinations.
Try shared plates such as aloo pepper roti or cassava fries. Lunch and dinner plates include coconut jerk chicken, spicy pepper beef and curried fish & shrimp. Check out their buss-up-shut specialties as well, which is a Trinidadian flatbread used to eat curries and stews. It is flaky like a pastry and soft like a tortilla. Gluten-free, vegan and vegetarian dishes are available. For dessert, indulge in coconut bread pudding, ginger & lemongrass crème brulee or Key lime pie. 
351 North Mulberry Street, Lancaster. 717-824-3964 or callalootrinidadiankitchen.com.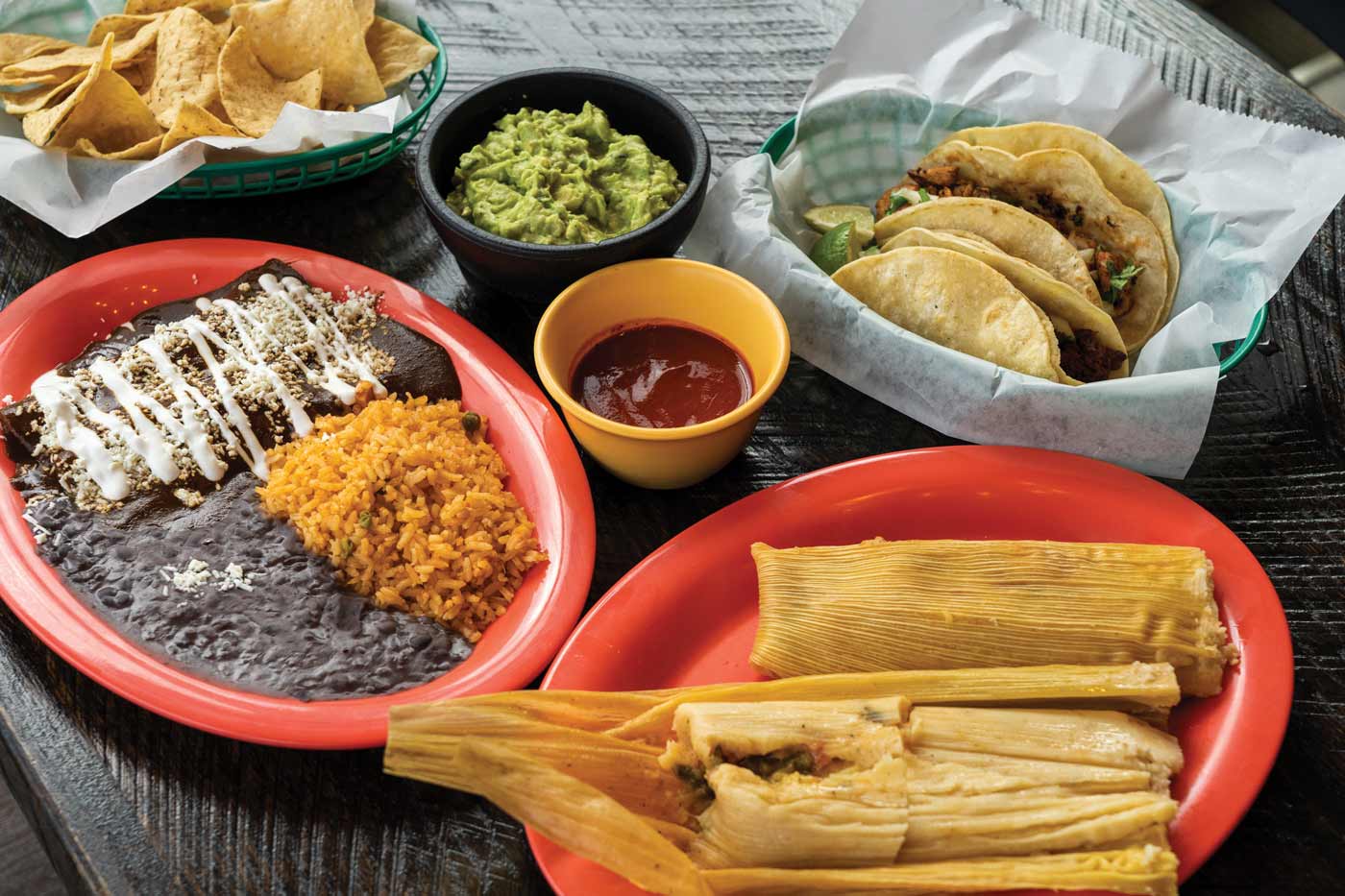 Lucy Gomez Lucera has been treating Lancaster to a taste of Mexico for nearly 20 years through her downtown restaurant, Cocina Mexicana. The menu is based on the culinary traditions of the state of Puebla in Mexico, where Lucy grew up. The region's best-known foods include chile rellenos (stuffed peppers) and mole, a flavorful sauce made with a variety of spices and chocolate. Popular menu items include tacos, which are made with soft corn tortillas and a wide variety of fillings including grilled pork pastor, beef tongue and fried shrimp. The menu also features appetizers (ranging from chips and salsa to quesadillas and tostadas), sandwiches, soups, salads, burritos, enchiladas, huevos and a number of beef, chicken, pork and seafood-based platters. There are a number of vegetarian options as well. 
At Cocina Mexicana, you can BYOB or grab a beer from Columbia Kettle Works 2nd Gear Taproom, which is right next door. For non-alcoholic beverages, Cocina Mexicana offers Mexican sodas and specialty drinks, including Agua de Jamaica which is made with the petals of hibiscus flowers. Take-out and delivery are available.
112 North Water Street, Lancaster. 717-393-9193 or cocinamexicanalancaster.com.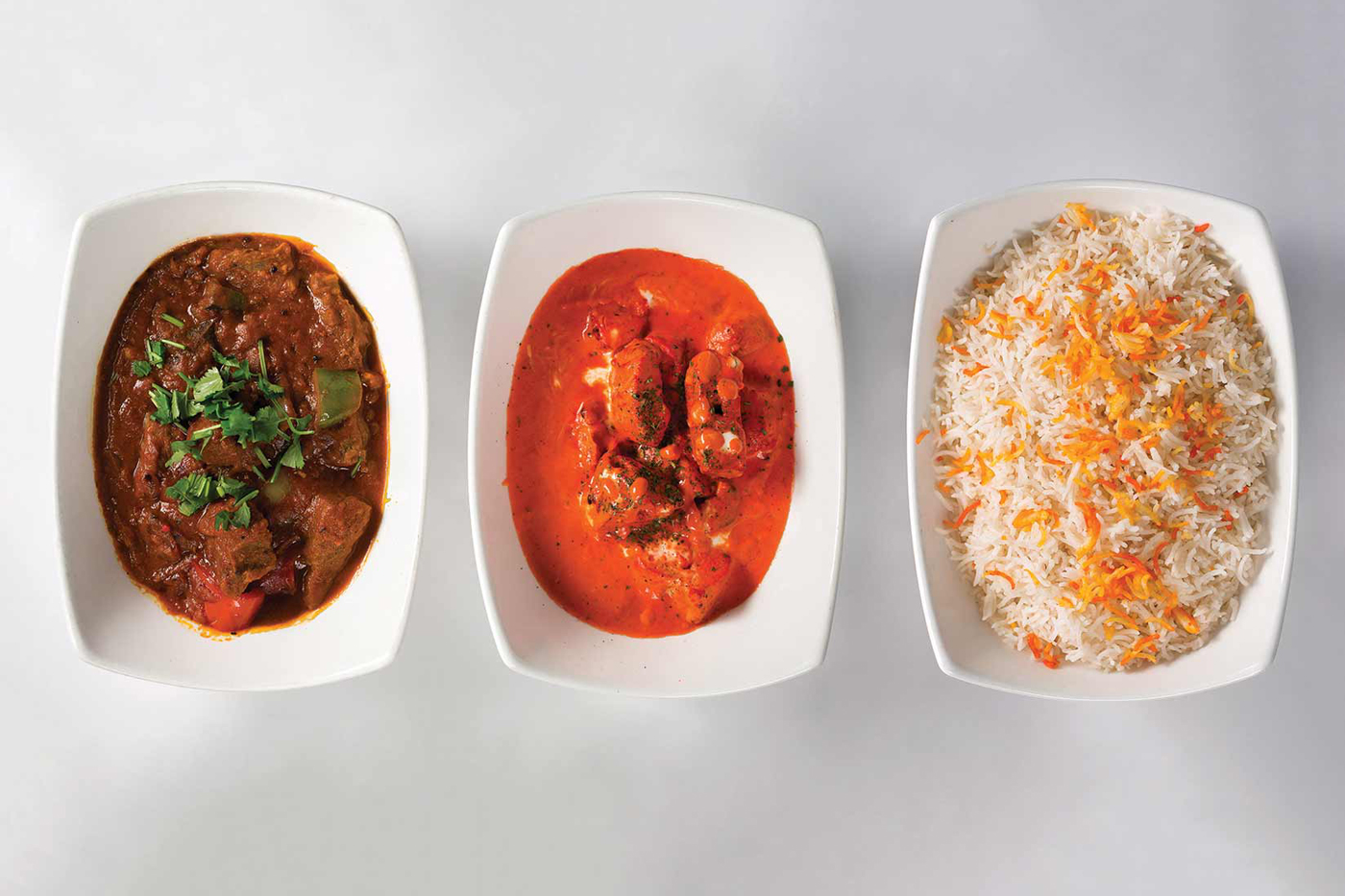 Try a taste of Nepal and India at Himalayan Curry & Grill. Opened in 2012 by owner Mohan Pradhan and family, the restaurant is a local favorite and has been consistently voted the best in Lancaster County year after year.
Located in the heart of downtown Lancaster, the restaurant features Indian food, including favorites such as chicken tikka masala, lamb vindaloo and shrimp coconut curry. Basmati rice is served along with many of the entrées, and a small selection of naan is a great addition to any meal. Nepalese cuisine is very diverse and not as spicy as most Indian dishes. Some of Himalayan's hit Nepalese dishes include choila (a spicy chicken dish), kukhura ko masu (a chicken curry dish) and momo (dumplings). Their menu is very gluten-free and vegan friendly.
This downtown hidden treasure is located in a small, intimate venue, so you may want to either make reservations for dinner or arrive early. Dinner reservations are required on Fridays and Saturdays. Come prepared with an empty stomach because the large-portioned meals are guaranteed to fill you up. Himalayan Curry & Grill also offers take-out, lunch boxes to-go and party trays.
22 East Orange Street, Lancaster. 717-393-2330 or himalayanlancaster.com. Reservations are required on Fridays and Saturdays. Himalayan Curry & Grill's dining room was closed during Covid but is expected to reopen in July 2021.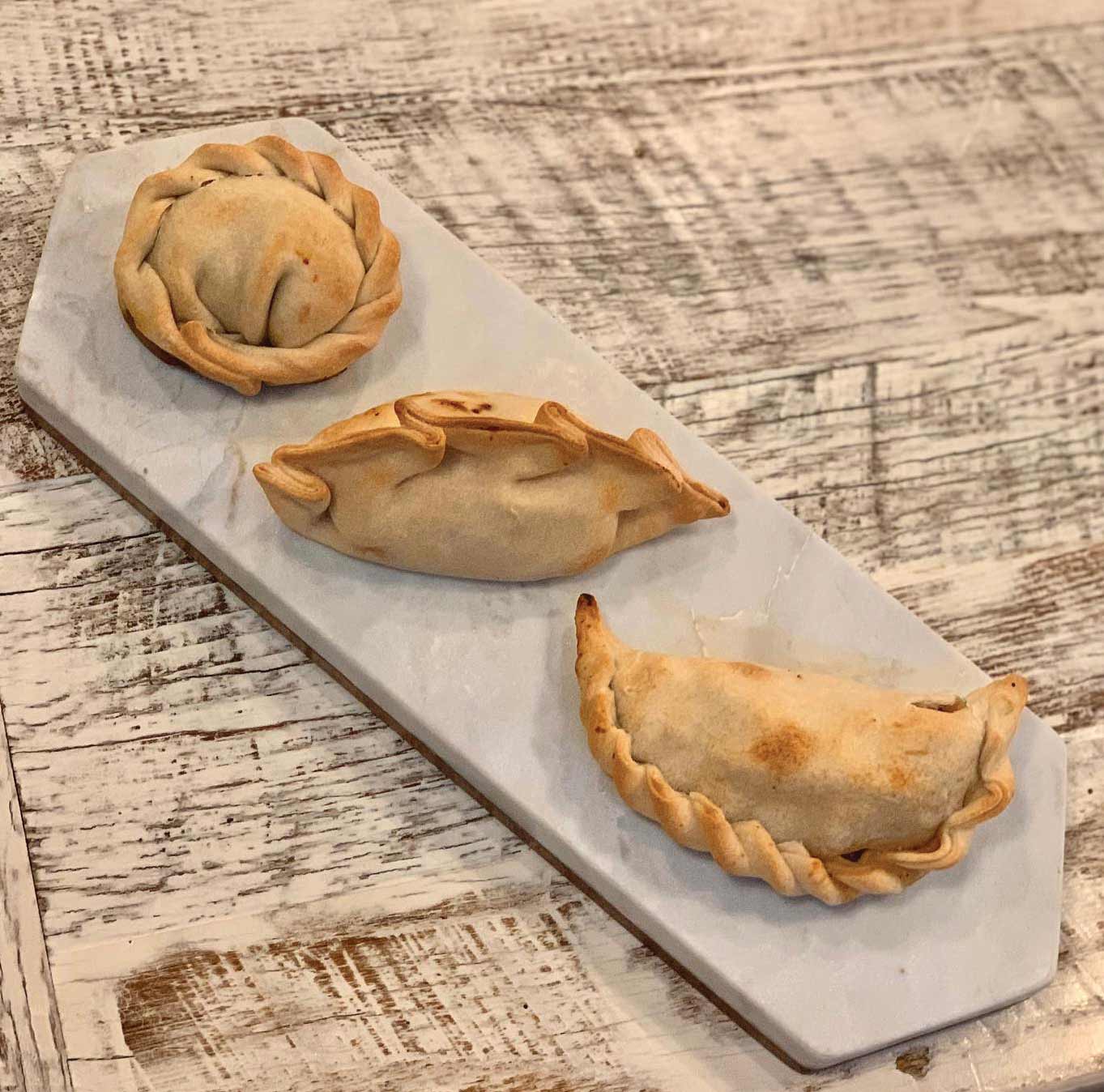 Empanada Gourmet offers a wide variety of authentic Uruguayan baked goods, including empanadas, masitas (petit fours), alfajores (cookies sandwiched with dulce de leche, chocolate or fruit paste), bizcochos (flaky pastries), fruit tarts and more. 
Uruguay's cuisine is a combination of several countries including France, Spain, Italy, Germany and Portugal. The family behind the eatery descended from immigrants from the countries that colonized Uruguay. Those ancestors brought along their own recipes to the country as a way to stay connected to their homelands. Today, Empanada Gourmet recreates the treasured recipes so Lancaster residents can experience a part of Uruguay's history.
 Empanadas take center stage at the eatery and are made completely from scratch every day. Sweet and savory options are available, including fillings such as beef, chicken, spinach, dulce de leche, apples and more. Vegetarian and vegan options are available.
Empanada Gourmet has a stand at Lancaster Central Market and recently opened a Prince Street location.
46 North Prince Street, Lancaster. Central Market, 23 North Market Street, Lancaster. 717-553-5913 or empanadagourmet.net.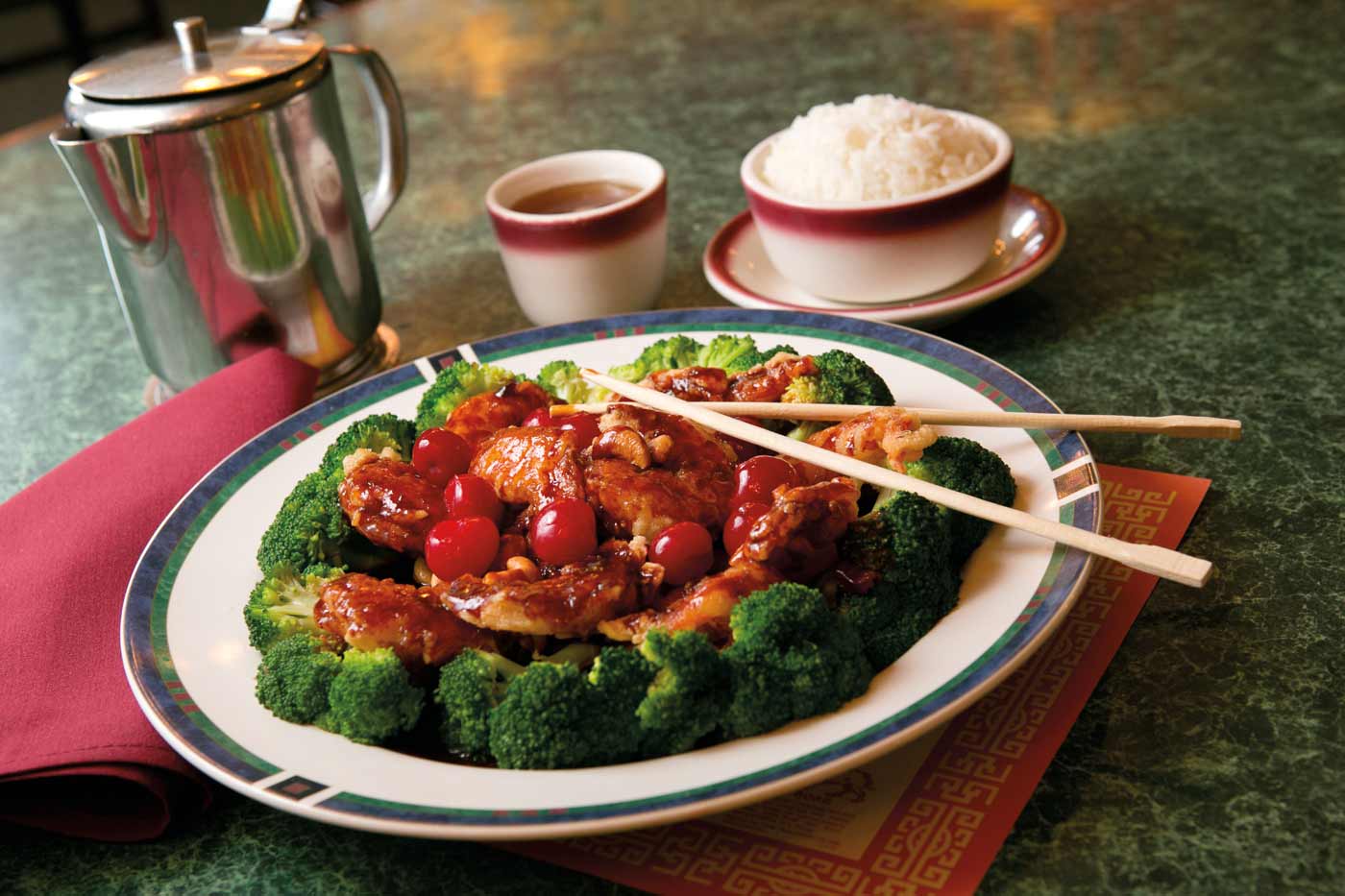 Family owned and operated for nearly four decades, Hong Kong Garden is the oldest Chinese restaurant in Lancaster County that has stayed at the same location, under the same name and managed by the same family. Hong Kong Garden is a local staple for Chinese food and has been voted the Best of Lancaster County (Lancaster County Magazine) for 17 consecutive years.
The restaurant is located within the Wheatland Shopping Center and seats 120 customers. Owners Steve and Susan Quan, who were given the reins from Susan's mother and father who opened the eatery in 1980, say they serve the "basics" of Chinese food at Hong Kong Garden. Both the lunch and dinner menus include a wide variety of soups, appetizers, entrées, chef specialties and more.
Top sellers include hot and sour soup, General Tso's chicken and egg rolls that are hand-rolled and filled with vegetables. Every meal is prepared fresh to order, which allows for custom requests to meet special dietary needs or to adjust the spiciness of a dish. Vegetarian and vegan dishes may also be requested.
1807 Columbia Avenue, Lancaster. 717-394-4336 or hongkonggardenpa.com.